The unemployment rate is down nationally, and at record lows in at least 13 states around the country. While that's great news for job seekers, employers looking to hire and keept the best talent are facing stiff competition.
While many in the industry scoffed when perks such as free food, game rooms and other perceived frivolities started trending in the tech industry, such perks proved to be the forebearers of more refined, purpose-driven benefits–and there's research to back them up.
Related: Workplace stress costing employers $500 billion annually
For today's younger workers, a job is about more than salary--company culture and values, work/life balance are all major factoris in job satisfaction and loyalty. Happier employees are more engaged and productive employees. Healthier employees are, too.
Here are a variety of innovative ways companies are trying to stay ahead of the competition with unusual perks and benefits: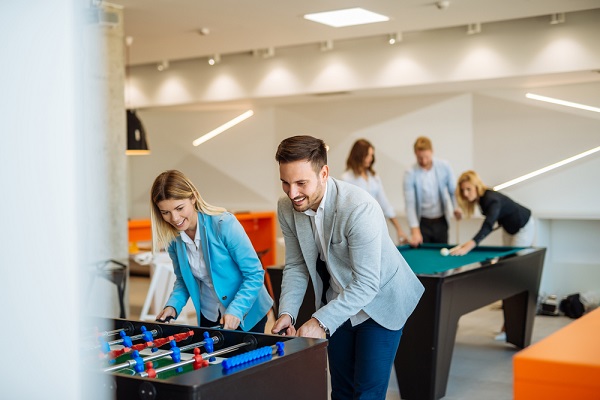 1. Fun things to do at work (besides work)
To get workers "out of their chairs as often as possible," Toyota installed a two-story-tall rock-climbing wall at its new North American headquarters campus in Plano, Texas, according to Commercial Property Executive.
"Besides promoting employee wellness, the wall serves as a distinctive tool for recruitment and retention," CPE writes. "So do the 11 dining spots, well-stocked convenience store and pharmacy at the campus."
Yahoo! based in Sunnyvale, California puts on an Influential Speakers Series for its workers, with "prolific thinkers" like Deepak Chopra and A-List stars like Tom Cruise as presenters, according to Salary.com. The company also holds concerts with singers like Taylor Swift, as well as barbecues, not to mention the company's on-site gym equipped with basketball and sand volleyball courts.
Burton Snowboards in Burlington, Vermont provides season ski passes gives its employees and let them have "snow days" to hit the slopes after a big snowfall, Business Insider writes. And its neighbor Dealer.com provides desk-side veggie delivery as well as subsidized organic "Dot Calm Café" drinks to its employees, according to Salary.com.

2. Employee excursions
Boost Media recently held an Earth Week-themed trip, on which employees will go camping and participate in beach cleanups, according to The Muse. The San Francisco-based company also hosts "legendary" holiday parties that include beer pong tournaments, and the winner is awarded a championship belt.
iCracked in Redwood City, California gives its team full access to the company yacht, according to The Muse.
"Employees take it out to relax on the water and enjoy the lush views in Redwood Shores," The Muse writes. "Apart from that, iCracked provides catered meals for employees, so you don't have to worry about packing a sack lunch ever again."
Bain & Company holds an annual two-day, global "Bain World Cup" soccer tournament, and more thousand employees from 50 Bain offices typically participate, according to Business Insider.

3. Extraordinary time-off policies
Chicago-based Grant Thornton has an unlimited paid-time-off policy to its nearly 7,000 employees, according to USA Today.
"The company believes that if the vacations are planned properly and the work gets done, the unlimited vacation policy should not have a major impact on the bottom line," USA Today writes. "In fact, as is suggested in a company sponsored video, the enthusiasm shown for the policy may mean a happier, more productive workforce."
Deloitte based in New York City lets its employees take sabbaticals, according to Entrepreneur. Workers can take a one-month sabbatical, without pay, or if they want to pursue a personal or professional growth opportunity, Deloitte will let them go for three to six months while paying 40 percent of their salary throughout that timeframe.
Timberland in Stratham, New Hampshire lets employees can take service sabbaticals equaling 40 hours of paid volunteer work per year, Salary.com writes. San Francisco-based Salesforce employees receive six days of paid volunteer time off a year, as well as $1,000 a year to donate to a charity of their choice, according to Business Insider.
Grasshopper Group in Boston gives its employees four weeks of paid time off, plus nine holidays per year – and paid half-days every Friday during the summers, according to Salary.com. And Fog Creek provide up to five days of paid "climate leave" for employees who can't work because of extreme weather events, Bloomberg writes. The New York City-based company will give affected employees even more time if there's a declared state of emergency.

4. Concierge services
SC Johnson & Son in Racine, Wisconsin has an on-site employee concierge to handle a host of chores, according to Salary.com.
"Concierges send packages and flowers, pick up groceries, shop around for the best deals on car insurance, take your car in for service including oil changes, and even stand in line for concert tickets," Salary.com writes. "With all of those perks, employees may actually find time to enjoy life outside of work."
The Society for Human Resource Management writes in its blog that the three most popular concierge services are personal shopping, automobile services, and mail/shipping/stamps. However, many other services are available, including gift wrapping, event planning for birthday, graduation or special event parties and travel planning.
"One concierge ordered 330 pies for employees just before the Thanksgiving holiday in 2008," SRHM writes. Some concierge service providers also give corporate support, such as conducting a fund-raising campaign for the United Way.

5. On-site amenities
While concierges run offsite errands for employees, Genentech has facilities for routine chores onsite at its campus in South San Francisco, California, according to Entrepreneur. Employees can get a haircut and a car wash at work, or visit the dentist, relax in a mobile spa, and take their kids to Genentech's child care center.
Down the road in Mountain View, California, Google employees can get oil changes and car washes, massages and yoga, a play room, back-up child care assistance at the company's campus, Salary.com writes. San Francisco-based Twitter has onsite acupuncture and improv classes, as well as three catered meals a day, according to Business Insider.

6. Assistance programs
Fidelity, PwC, Aetna and Penguin Random House are some of the companies that offer student loan repayment benefits for their employees, according to Forbes.
"Student loan repayment assistance is the hottest employee benefit of 2017 – and one of the best ways to attract Millennials and recent graduates to join your company," Forbes writes.
UK-based PwC offers its employees $1,200 a year in reimbursement on student-loan debt. Michael Fenlon, global director for PwC, tells Business Insider that the benefit could be worth $10,000 — thanks to the impact extra payments have on interest, and shave off two to three years off the total payment period.
Many companies offer purchasing programs to help workers pay for big items, such as a new computer or washer and dryer, over time through payroll deductions, according to Business News Daily. Purchasing programs can help pay for big items, such as a new computer or washer and dryer, over time through payroll deductions. Other voluntary benefits could include accident insurance, identity theft protection and disability insurance.
"Offering the right voluntary benefits programs can help employees save time and money, leading to reduced stress and increased productivity in the workplace," Peter Marcia, chief executive of voluntary benefits outsourcing firm YouDecide tells BND.
Umpqua Bank in Portland, Oregon offers associates a clothing advance up to $500, according to Salary.com.
"Building a professional work wardrobe can be costly, especially for conservative industries like banking where more traditional work wear is required," Salary.com writes.

7. Free stuff
Facebook in Menlo Park, California offers interns free housing with free shuttle service to and from the company's campus, or a monthly housing stipend of $1,000, according to Business Insider.
San Francisco-based Airbnb gives its employees an annual stipend of $2,000 to travel and stay in an Airbnb listing anywhere in the world, Business Insider writes, and neighbor Twilio offers employees a Kindle plus $30 a month to purchase books.
Eventbrite in San Francisco provides its employees with a monthly wellness stipend worth $60, which can cover a VIP membership in some gyms, according to Entrepreneur, and Seattle-based Starbucks offers their workers full tuition reimbursement.
"Starbucks treats you like a human being, according to a former barista," Entrepreneur writes. "You can enroll at the Arizona State University and get an online bachelor's degree — on the house. The coffeehouse chain guarantees it will reimburse your full tuition."

8. Homemaking help
Netflix in offers one paid year of maternity and paternity leave to new parents, and the Los Gatos, California company also allows them to return part-time or full-time and take time off as needed throughout the year, according to Business Insider.
UK-based Spotify provides six months of paid parental leave, and covers costs for egg freezing and fertility assistance, according to Business Insider. Zillow pays for overnight shipping of breast milk when a new mom is traveling.
Netherlands-based IKEA has a four-month paid parental leave policy for employees who have worked there for year – no matter if they are part-time or full-time, Entrepreneur writes.
Many companies offer employer-sponsored auto and home insurance through payroll deductions, according to Business News Daily. "Companies that provide auto/home insurance through payroll deduction are eligible for group rate premiums, helping families save money," Marcia tells BND.
The United Services Automobile Association matches 100 percent of 401(k) contributions up to eight percent, according to Entrepreneur.
"Those who left their jobs in the Fortune 500 firm attested to its unmatched terms," Entrepreneur writes. "Some claimed it was five percent higher than what they got from other employers. While USAA gives generous incentives, it also encourages all of its workers to take charge of their retirement savings plan."