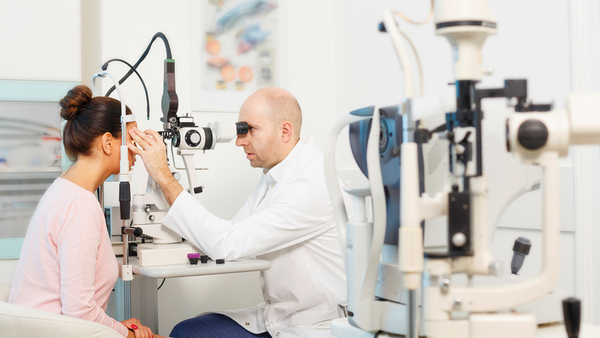 We have often read about the effects of type 2 diabetes on day-to-day health, and how this affects workforce productivity and employers' health plan decisions. But benefits like dental and vision insurance are not often part of the conversation when it comes to diabetes management and its impacts on workforce health. Understanding the impact of diabetes on dental and vision health can help brokers and employers develop benefits strategies that support employee wellness and control health care costs.
Impacts on health
"Dentists are on the front line when it comes to the early detection of diabetes-related oral diseases. Early detection of any disease makes for not only less complicated treatment but also better treatment results." -Dr. William Richardson, DDS
According to the American Diabetes Association, people with diabetes are at higher risk for gingivitis, gum disease and periodontitis (gum infection with bone destruction). Conversely, having gum disease can actually increase a person's risk for type 2 diabetes, according to research from the National Diabetes Education Program, a program of the National Institutes of Health and the Centers for Disease Control.
Diabetes makes it harder to fight infection and can slow a person's healing process. As a result, conditions like periodontitis, which can lead to tooth loss, tend to be more severe among people who have diabetes. Periodontitis can also cause blood sugar levels to rise, which in turn makes diabetes more difficult to control and exacerbates symptoms. This, in turn, can result in presenteeism (working sub-optimally due to illness) and absenteeism, both of which impact productivity, in addition to health care costs.
Regular dental care can help, and people with dental benefits are far more likely to seek preventative care, according to the National Association of Dental Plans. The American Diabetes Association says treating periodontal disease can improve blood sugar control significantly enough to reduce other complications from diabetes, such as kidney, eye or nerve damage, and can even lower the diabetes mortality rate.
While employees may be more likely to enroll in dental insurance, it is important they understand the significance of vision insurance in diabetes care as well. The National Eye Institute says those with diabetes are at a higher risk of developing eye diseases such as diabetic retinopathy, which can lead to diabetic macular edema, or DME (fluid leakage in the retina), and eventually blindness. The CDC reports that diabetic retinopathy is the most common cause of blindness among working-age adults in the U.S. (ages 20-74).
Receiving preventive eye care is key to avoiding blindness caused by diabetes. Make sure your vision carrier is providing comprehensive annual eye exams. When detected early, diabetic retinopathy is treatable, and vision loss is preventable.
Related costs
While addressing diabetes health issues will improve workforce health and productivity, it will also provide opportunities for cost savings.
Research conducted for the National Center for Biotechnology Information, part of the U.S. National Library of Medicine, showed that for individuals with type 2 diabetes, untreated periodontal disease can cost almost 60 percent more for direct annual dental costs than treated periodontal disease. Additionally, completing periodontal disease treatment can reduce a person's annual medical costs by 40.2 percent, or $2,840, on average.
For diabetic retinopathy and DME, the difference in cost is even more significant. A study published by Value in Health, The Journal of The International Society for Pharmacoeconomics and Outcomes Research, concluded that employees with diabetic retinopathy and DME cost employers roughly $6,500 and $8,400 more than those without diabetes, respectively.
Recommendations
Brokers and their employer clients are in a unique position to have direct impact on the health of employees. Addressing diabetes and its related complications in workforce health will reduce medical health care costs, and impact dental and vision care savings as well. It is important to consider dental plans that include wellness support, such as online dental health centers or additional benefits for those with periodontal disease. For vision plans, the top priority should be an annual comprehensive eye exam. These exams are crucial in catching vision problems before symptoms arise, when they are most treatable.
Making it easier for employees to seek help by offering dental and vision coverage can dually benefit employer and employee. In addition to the potential cost savings for the employer, dental and vision benefits could help employees defray the costs of regular visits to dentists and eye doctors and avoid diabetic complications. Wellness programs and adherence to care can help reduce the chances of developing diabetes, and support a healthier, more productive workforce.
Brad Peak leads dental and vision product development and strategy for Sun Life Financial U.S. This is the second in a series on workforce diabetes and its impacts on employee benefits. The first, How diabetes impacts workplace productivity and health costs, was published in November.