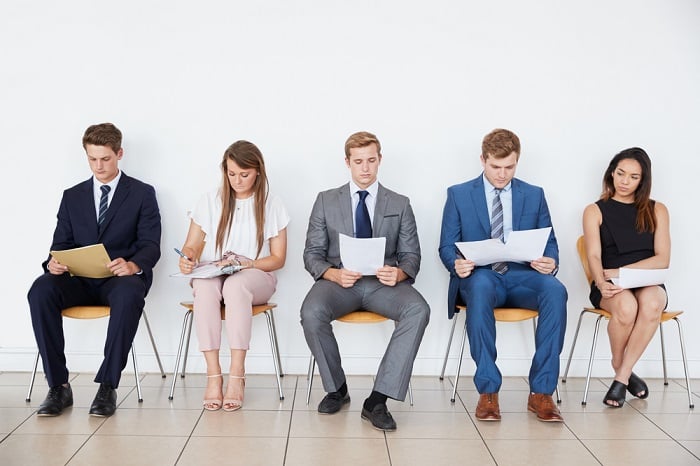 It's a relatively good time to be looking for a job, according to CareerBuilder's midyear job forecast. That's because 63 percent of employers are still planning to hire full-time, permanent workers in the second half of the year—and that's up from the 60 percent who did so last year.
And it's getting tougher for employers, who are increasingly planning on offering higher salaries and even a range of perks to tempt prospective candidates: everything from signing bonuses and extra paid time off to free lunches and the ability to work remotely.
Related: 10 best college majors for getting hired
"Low unemployment and increasing skills gaps continue to plague employers who are struggling to fill roles at all levels within their organizations," says Matt Ferguson, CEO of CareerBuilder. "Fifty percent of U.S. employers reported that it is taking them longer to fill jobs today compared to any other period of time—a trend that is ultimately giving job seekers more leverage."
For once, it's not just the highly skilled who might be benefiting from this, since 71 percent of a subset of human resource managers say they believe they have to pay entry-level workers more money because of tight talent pools. Still, 69 percent of employers say "every job is essentially a tech job because every job has some technical component to it today."
Employers say they expect to boost pay for new workers and for existing staff; 45 percent plan to increase starting salaries on new job offers as the year wanes, and 23 percent of all employers plan to increase starting salaries by 5 percent or more.
In addition, 58 percent of employers will increase compensation for current employees before the end of the year, with 24 percent of all employers planning an increase of 5 percent or more on average.
Now, about those perks: employers plan to highlight a number of goodies in job offers. Not just signing bonuses (21 percent), extra paid time off (22 percent), free lunches (14 percent) and remote work (25 percent), but also a casual dress code (36 percent), employee discounts (31 percent), gym memberships (12 percent), work-from-home Fridays (10 percent) and even daycare (8 percent) will be on offer.
That doesn't necessarily mean that new hires—or even existing employees—will stick around, however; 22 percent of workers say that they're likely to jump ship in the second half of 2018.
And if all else fails, there's always gig work; 41 percent of employers plan to hire temporary or contract workers in Q3. While that's actually down from last year's 50 percent, the report points out that "temporary or contract hiring continues to be a key way employers fill employment gaps and recruit permanent staff."