U.S. consumers expect that college costs will increase almost as much as health care costs over the coming year, both rising at roughly three times the median rate for overall inflation.
According to the latest New York Fed Survey of Consumer Expectations, the median cost of college is expected to rise 7.2 percent while health care costs jump 7.8 percent and overall inflation increases just 2.6 percent.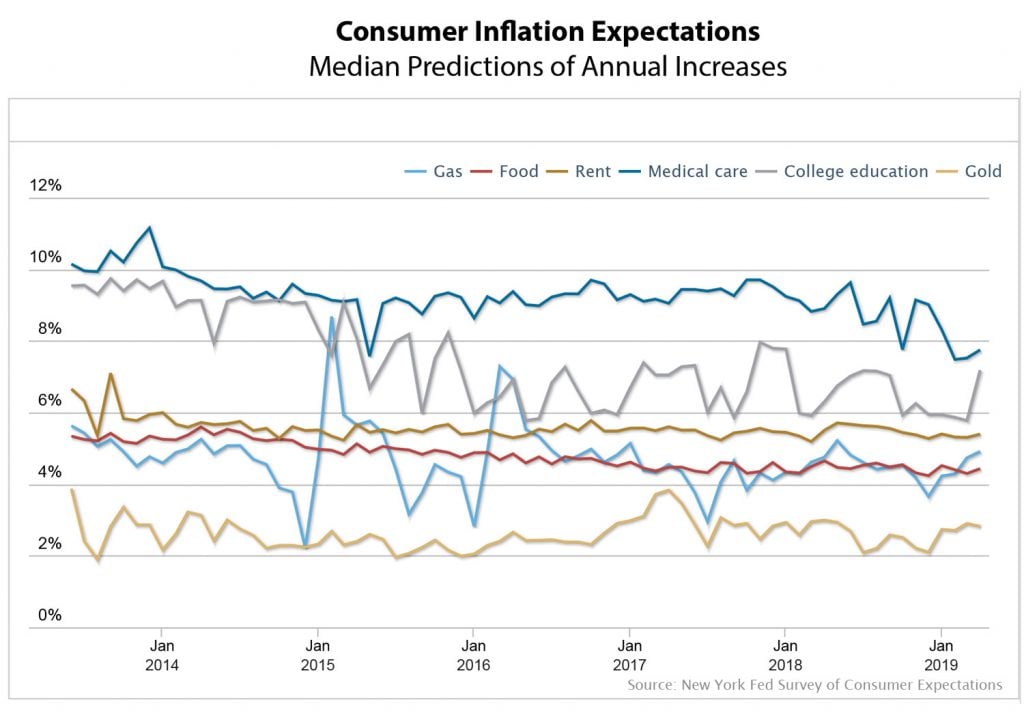 Even this moderate growth in overall inflation expectations, which is the lowest reading since late 2017, isn't as positive as it seems.
Consumers expect their median earnings will grow just 2.4 percent over the coming year, down from 2.6 percent in April. The biggest decline in expectations for median earnings came from households with incomes below $50,000.
Median expected household income growth, however, is seen rising 2.9 percent, up from 2.8 percent in the March survey, but equal to the expected median increase in taxes for current income levels.
"Larger shares of respondents [are] expecting to be and feeling better off financially," according to the report summary.
On the positive side, consumers were more optimistic about the job market over the coming year.
The average perceived probability of finding a job if they lost their current job increased to 59.3 percent, up from 58.6 percent in March, while the average perceived probability of losing one's job in the next 12 months fell to 13.6 percent from 14. 3 percent in March.
The outlook for the national unemployment rate also improved. The mean probability that the jobless rate would be higher a year from now fell 1.5 percentage points to 35.5 percent, which is almost five percentage points below a five-year high reached in January.
Spending growth expectations rose slightly, up 3.3 percent from 3.1 percent in March. Although expectations for access to credit were largely unchanged from a year ago, the probability of missing a debt payment over the next three months fell slightly. The average perceived probability of a missed payment fell to 11.1 percent, from 11.6 percent in March and remained below its trailing 12-month average of 12.1 percent
The New York Fed's Survey of Consumer Expectations is a nationally representative online survey of approximately 1,300 household heads that is conducted on the bank's behalf by The Demand Institute, a nonprofit operated jointed by the Conference Board and Nielsen.
Read more: