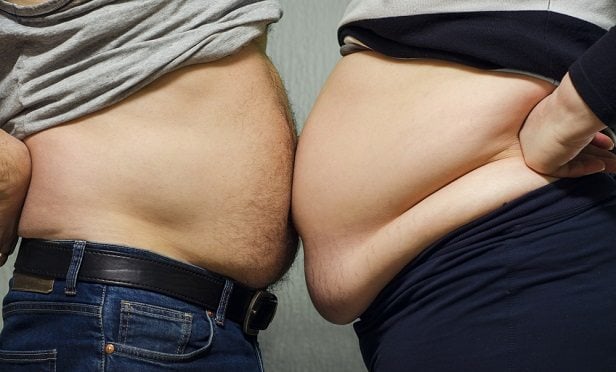 The bad news: if you're obese and you contract COVID-19, you're more likely to experience severe symptoms and possible death. The good news: people who exercise daily can lessen those risks.
Researchers at New York University analyzed the body mass index data of COVID-19 patients visiting its academic hospital from March 9 to April 9, publishing their results in the medical journal Clinical Infectious Diseases.
Patients younger than 60 with a BMI between 30 and 34 were twice as likely to be admitted to acute care, and 1.8 times more likely to be admitted to intensive care units, compared to individuals with a lower BMI, according to the analysis. For those in that age category with a BMI of 35 and higher, they were 2.2 times more likely to be admitted to acute care, and 3.6 times more likely to be admitted to the ICU.
"Though patients aged younger than 60 years are generally considered a lower risk group of Covid-19 disease severity, based on data from our institution, obesity appears to be a previously unrecognized risk factor for hospital admission and need for critical care," the authors write. "This has important and practical implications, where nearly 40 percent of adults in the US are obese with a BMI 30 or higher."
Fortunately, a separate study by Blue Cross Blue Shield Association found that regular physical activity is shown to decrease the risk of conditions like diabetes and heart disease by 25 percent or more and improve primary cardiovascular health risk factors including cholesterol, blood pressure and BMI – all risk factors that can contribute to severe COVID symptoms and possible death.
Specific findings include:
Members who consistently exercised were 1 point healthier on average, which translates to an 8 percent reduction in the impact of health conditions that could lower their overall health.
Prevalence of major depression grew 2 percent slower among millennials who regularly exercise.
Chronic conditions like hypertension and diabetes grew 2 percent to 3 percent slower among members who regularly exercise.
Members who exercise regularly saw lower health care costs – approximately $4,438 less over four years.
"Regular exercise continues to play an important role in the overall health of all Americans and can prove extra helpful when managing chronic conditions," says Dr. Vincent Nelson, vice president of medical affairs for BCBSA. "With the current stay-at-home orders, Blue Cross and Blue Shield companies are working within their local communities to find new and creative ways to encourage at-home regular exercise activities needed to maintain and improve the mental and physical health of their members – and of all Americans."
To encourage at-home exercise during COVID-19, individual BCBS companies have adjusted current programs and introduced new initiatives into their local markets. Examples include:
Working with local governments to launch online programs and portals that provide social enrichment and fitness information to youth, seniors and other age groups
Offering seniors and other individuals online tools and social connection opportunities that can be done safely online, allowing members to maintain connections with others in their community while promoting mental wellness
Providing free fitness programs and exercise tutorials that members can use to safely exercise from their home
Introducing a new informational webinar series aimed at providing health tips, at-home care guidance and expert advice for members who have underlying health conditions or a weakened immune system.
Read more: