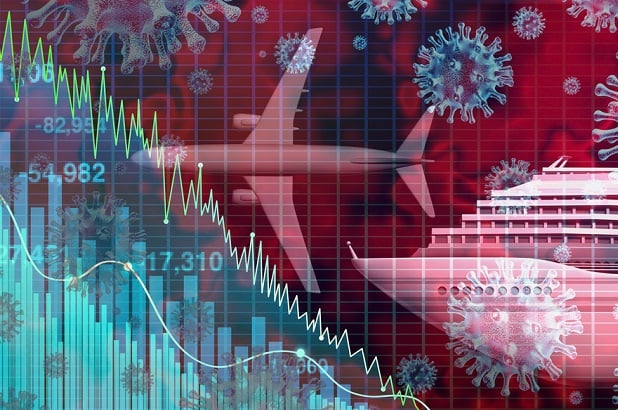 As more states lift shelter-in-place orders and re-open their economies, a persistent question remains: How exactly will the pandemic play out in the weeks and months to come? In a new paper, a group of epidemiologists predict three possible scenarios based on key lessons from past influenza pandemics.
They begin by dashing hopes for a quick fix. The current pandemic is likely to last 18 to 24 months, or until about 60% to 70% of the population reaches immunity, according to eight experts from the Center for Infectious Disease Research and Policy's working group on COVID-19.
Related: Gary Shilling: 13 predictions for a post-coronavirus world
"The course of the pandemic also could be influenced by a vaccine; however, a vaccine will likely not be available until at least sometime in 2021. And we don't know what kinds of challenges could arise during vaccine development that could delay the timeline," they wrote.
Instead, the group foresees three possible "wave scenarios" for the virus.
In scenario one, the current wave—Spring 2020—gives way to a "series of repetitive smaller waves that occur through the summer and then consistently over a 1- to 2-year period, gradually diminishing sometime in 2021."
These outbreaks may vary geographically and could also depend on what local restrictions are in place to limit exposure. In response, mitigation measures would likely fluctuate between relaxation and reinstatement.
In scenario two, the current wave "is followed by a larger wave in the fall or winter of 2020 and one or more smaller subsequent waves in 2021," according to the analysis. This pattern is consistent with the 1918-19 Spanish flu pandemic, as well as the 1957-58 flu pandemic.
Such a scenario would likely entail re-imposing strict mitigation measures in an attempt to drive down new infections and prevent health care systems from being overwhelmed.
The only upside of such a crushing fall tsunami is that subsequent waves would be little more than ripples.
In scenario three, we would move into a "'slow burn' of ongoing transmission and case occurrence, but without a clear wave pattern."
While this pattern is unlike any the experts have seen in past pandemics, "it remains a possibility for COVID-19," they wrote. "This third scenario likely would not require the reinstitution of mitigation measures, although cases and deaths will continue to occur."
When the pandemic does finally wane, the epidemiologists say it's still unlikely to disappear altogether. Instead, they caution, it "is likely that SARS-CoV-2 will continue to circulate in the human population and will synchronize to a seasonal pattern with diminished severity over time, as with other less pathogenic coronaviruses… and past pandemic influenza viruses have done."
Read more: