According to the S&P Healthcare Economic Composite Index, the average per capita cost of health care services covered by commercial insurance and Medicare programs rose 6.27% over the 12-months ending November 2010. This is a deceleration from the +6.68% reported for the 12-months ending in October 2010.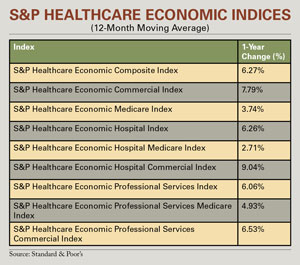 Claim costs associated with hospital and professional services for patients covered under commercial health plans rose 7.79% over the year ending in November, as measured by the S&P Healthcare Economic Commercial Index. Medicare claim costs for the same services rose at a rate of 3.74% from the previous year, as measured by the S&P Healthcare Economic Medicare Index. This is the lowest annual growth rate for Medicare claims costs since June 2007, when it was +3.55%. These two measures saw growth deceleration versus their October reports of +8.19% and +4.18%, respectively.
The S&P Healthcare Economic Indices estimate the per capita change in revenues accrued each month by hospital and professional services facilities for services provided to patients covered under traditional Medicare and commercial health insurance programs in the U.S. The annual growth rates are determined by calculating a percent change of the 12-month moving averages of the monthly index levels versus the same month of the prior year.