Ninety-seven percent of employees participating in one-to-one benefits counseling sessions during enrollment say they better understanding of the benefits their employers offer, according to a post-enrollment survey by Colonial Life & Accident Insurance Company.
The survey also finds 44 percent of employees say their understanding is significantly improved by the sessions, and 98 percent of employees say one-to-one benefits counseling is important while 61 percent say it is very important.
"With more costs and decision-making being shifted to employees, benefits communication and education is more important than ever," says Randy Horn, president & CEO of Colonial Life. "These surveys clearly show that employees understand their benefits better after meeting with a personal benefits counselor. They also value the opportunity to discuss their individual benefits situation with a counselor."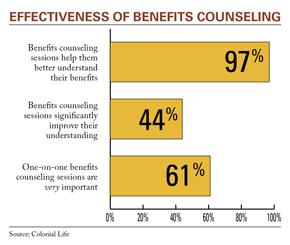 Though employers spend a lot of money on employee benefits, research suggests most don't think their employees truly understand their benefits package. Less than 19 percent of employers say their employees have a very good understanding of their benefits while nearly 5 percent say their employees do not know anything about their benefits.
"Employers that provide good benefits communication and education through one-to-one counseling can feel better knowing they are maximizing their benefits investment," Horn says. "With an overall employee satisfaction rate of 94 percent, one-to-one benefits counseling offers employers confidence that enrollers are actually educating their workforce – not simply selling products."