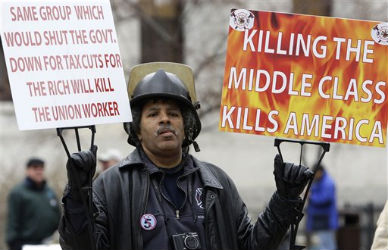 COLUMBUS, Ohio (AP) — Debate on a bill to curtail collective bargaining for Ohio public workers has gotten under way with shouts and laughter from opponents and the House speaker threatening to clear the chamber's balcony.
The Republican-led House was expected to pass the bill Wednesday.
The legislation restricts the collective bargaining rights of more than 350,000 teachers, police officers and other public workers across the state. They could negotiate wages and certain work conditions, but not benefits.
A Democratic effort to have the measure read in its entirety failed on a party-line vote.
Onlookers in the gallery laughed as state Rep. Joseph Uecker said the bill would help city officials save taxpayers money and help the middle class. That prompted House Speaker William Batcher slam his gavel to bring order.