More than half of primary care physicians in Massachusetts are no longer accepting new patients, and more patients than ever are facing lengthy wait times to see both primary care and specialty doctors, according to a new report.
Despite being the state that was ahead of the game on health care reform when then-Gov. Mitt Romney passed the universal health care law in 2006, the report released Monday by the Massachusetts Medical Society shows critical statistics of health care in the state are worrying doctors.
"Massachusetts has made great strides in securing insurance coverage for its citizens," said Dr. Alice Coombs, president of the Massachusetts Medical Society. "But insurance coverage doesn't equal access to care. We still have much work to do to reduce wait times and widen access. This has important implications for health care cost control, as difficulty or delay with routine access to care leads people to seek other options, such as the emergency room, which is much more costly."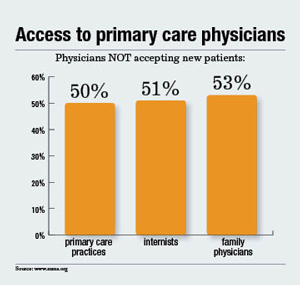 In fact, recent statistics from the American College of Emergency Physicians show that more than 80 percent of ER doctors said emergency room visits were increasing in their departments, most reporting "significant" rises. [See ER visits will increase with health care reform, doctors say] Additionally, 97 percent of ER physicians reported treating patients on a daily basis who were referred to them by primary care doctors, shattering the presumption that ER visits are for people without health care coverage.
"Many of my patients do what they are supposed to do — they call their primary care doctor when they have problems," says Darria Long Gillespie, a resident physician at Yale Department of Emergency Medicine. But primary care doctors often worry they don't have the time or resources to treat them and instead send them to the ER, she says.
"You can't just say these people need to have coverage and have a primary care doctor," she says. "In reality, you have to look at how it's actually going to be executed. Who is going to take care of these people?"
A significant shortage
MMS officials agree that their report findings reflect a significant shortage of primary care physicians.
The report — which compiled results after surveying 838 primary care and specialty doctors throughout February and March — found that 51 percent of internists and 53 percent of family physicians are not accepting new patients. Those figures remain close to last year's findings, which showed 49 percent of internists and 54 percent of family physicians not accepting new patients.
This is the fifth consecutive year that the Medical Society has recorded critical and severe shortages of both internists and family physicians.
Even when patients do have a primary care doctor, they're still waiting a long time for an appointment. The average wait time for an appointment with an internist is 48 days, which is five days shorter than last year, but the average wait for family medicine is 36 days, up seven days from the 2010 survey. Internal medicine was the only specialty reporting a shorter wait time, yet at 48 days it has the longest wait time of any of the seven specialties surveyed.
The wait to see gastroenterologists, obstetricians/gynecologists, orthopedic surgeons and cardiologists were all higher than they were a year ago, the report said.
The average wait time for pediatricians was 24 days, the same as last year, with 73 percent of them accepting new patients. Access to specialists is easier than primary care, with 82 percent of cardiologists, 85 percent of obstetricians/ gynecologists, 95 percent of gastroenterologists, and 97 percent of orthopedic surgeons, accepting new patients.
Government insurance
The report also found a striking gap between primary care physicians accepting Medicare and MassHealth, the state's Medicaid program.
While most internists (85 percent) and family physicians (87 percent) accept Medicare, only 53 percent of internists and 62 percent of family physicians accept MassHealth.
Additionally, while most specialists accept Medicare and MassHealth, they do not accept Commonwealth Choice and Commonwealth Care, the state administered program for low and moderate income adults not eligible for Medicaid.