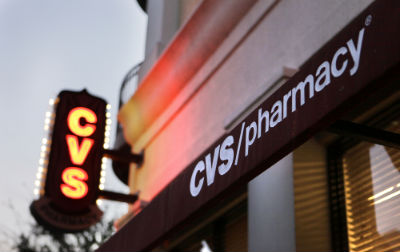 NEW YORK (AP) — Pharmacy benefits manager Medco Health Solutions Inc. said Friday that after this year, it will lose a contract that brought it about $3 billion in annual revenue.
The contract, which Medco had handled since 2008, will go to rival CVS Caremark Corp. CVS Caremark shares rose as much as 3.5 percent in morning trading while Medco stock suffered the largest decline of any company on the S&P 500, tumbling more than 10 percent.
Medco said Blue Cross Blue Shield will not renew a contract that saw Medco handle mail order and specialty drug benefits for the Federal Employees Health Benefits Program, which provides health insurance to federal government employees, retirees, and their families. Blue Cross' decision not to renew the deal will not affect CVS or Medco's results in 2011.
Caremark has handled FEP's retail pharmacy benefit since 1993, and it said that contract was renewed through 2014. The deal could be seen as a major win for the Woonsocket, R.I., company, which has reported smaller pharmacy benefit profits in recent years and has lost some major contracts.
Medco, based in Franklin Lakes, N.J., said the contract is responsible for less than 10 percent of its annual profit. Analysts currently expect the company to earn $5 per share in 2012, according to FactSet. Medco said it handles about 9.8 million mail order prescriptions per year under the contract and gets about $3 billion in revenue. The company reported $65.97 billion in revenue in 2010.
Raymond James analyst John Ransom estimates the new contract will add about 5 cents per share to the company's profit in 2012, but more importantly, it will serve as a vote of confidence in CVS Caremark's new management and as further evidence that results are Caremark are improving. Caremark, which was acquired by drugstore chain CVS in 2006 for $27 billion, posted lower earnings in 2010 and is again expected to post lower profit this year.
"Investors have questioned the validity of the combined model after a string of disappointments over the past couple of years," he said. "Clearly, the PBM is on much more solid footing relative to 18 months ago, with the company's new solutions resonating within the marketplace."
On average, analysts expect CVS Caremark to earn $3.17 per share in 2012. Ransom raised his price target to $45 per share from $42 and kept an "Outperform" rating on the stock.
Shares of Medco dropped $7.60, or 11.8 percent, to $56.84 in morning trading. Shares of CVS Caremark rose 89 cents, or 2.3 percent, to $39.04. Earlier the stock set a 52-week high of $39.50.