From the July 2011 issue of Benefits Selling: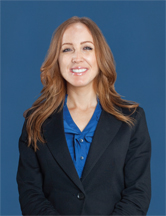 They say insurance is the one career no one really plans to follow. Reps don't show up for career day at grade schools, guidance counselors don't recognize budding young agents in high school detention and the once-reliable broker farm system has long since faded into history.
And even though pop culture institutions such as Harry Potter and Lady Gaga rate their own college course, there are very few academic options for those chasing those life-health dreams. So Gentrie Pool emerges as something of an anachronism – defying a system seemingly erected to prevent fresh new talent while also not exactly encouraging young women, either.
The maverick young agent actually broke into the business as a bright-eyed 17-year-old, slaving away at an old school property and casualty agency. Six months later, she was outta there faster than Donald trump's presidential aspirations. End of story, right? Not so much. "A few years later, an agent [who had worked] in the same building asked me to come work for him part time," Pool explained. "I declined and he kept asking."
Finally, Pool, who was still in school, caved and put in a few hours at the office in between classes at the University of Texas-Arlington. "Ten years later, I looked back and realized I'd handled about 1,500 small and large group enrollments from prospect to post sale, started the senior product division and the P&C department," Pool recalls.
"And I left there with my life-health, P&C licenses, and CSA and RHU designations, management certifications, a corner office and title as director of operations and part owner of the building." What a difference a decade makes.
(It's worth noting that she still managed to graduate cum laude with a communications degree – with a kinesiology minor – and even put in some hours toward a master's degree. She confesses she had every intention of becoming a professor.)
Now she's a district sales manager, in charge of several states for a Las Vegas-based national third-party administrator "with a boutique feel." Her role, she explains, "is to bring visibility to [our] HRA products among our suite of what I call the acronyms offerings: HSA, HRA, POP, COBRA, MERP." But, of course, that's not enough for her, either.
Pool's also sitting president of the Fort Worth Association of Health Underwriters. "The agent/mentor who stalked me into coming to work for him also heavy handedly suggested I attend the [FWAHU] luncheons," Pool recalls. "I went and before I knew it, I became president." She's actually been on the board for seven years now and is about to wrap up her presidential term, marked by state chapter of the year honors and the distinction of becoming the first gold-seal certified chapter in the country.
So after the initial arm twisting – metaphorical, of course – why get further involved/? It all came down itches, scratches and mentors. "Once I attended a few times I realized I could scratch a few itches," Pool says. "To teach, to be mentored to and to mentor, to network, to affect change – legislatively – locally to nationally. And I have: I've testified at the Texas State Senate as an expert witness, visited with congressmen and women on the Hill and in their own backyards."
But for Pool there's more to it than that. "FWAHU and TAHU are my insurance friends and family. Stagnation is my enemy and all [the continuing education] you have available in the association has real world applications. Besides, I'm a big believer in being unique," Pool says. "Translation?
I have no interest in repeating the mistakes someone else has made, so I want to learn from my peers and then I'm free to go make my own fresh new mistakes." But what else can you expect from a runner – certainly one as intensely competitive as Pool? "I compete against myself and others (and they don't even have to be aware I'm competing).
I like to challenge myself, grow, learn, stretch, endure and I get to do all of those things by running and through my involvement in [National Association of Health Underwriters]. We're all in this together, and I believe if you're going to complain about something, you better be part of the solution.
So many laws we have today in this state got their genesis in our organization. And we certainly have a voice that is respected and heard when making changes to other laws that could have turned out a lot differently than they have."
Benefits Selling: So what's your traditional sales approach? GP: I don't consider it sales. Never have. I educate. If someone doesn't want something I'm not interested in trying to convince them they do. Whether it's an employee I'm training, a prospect with no knowledge about insurance, an agent with 35 years of experience, or the CFO of a group, my mission is to give you real world, applicable information in manageable doses and help you make informed decisions.
BS: And your larger overall sales strategy? GP: If you can't measure it, don't do it. You have to know the ROI. Think long-term. Know when to shut up. And know your audience. Some only care about the bottom line, some care about the people. And no matter whom you're talking to or what you are talking about — they want to feel understood before you can make them understand.
I act like a consultant. There is enough business to go around for all of us. You don't have to go after another broker's business. If it's too hard, another and better way will show itself. I write and teach CE and use this often because I want to be seen as a consultant. The sales will come. In order to reach a goal, you must define it and then work backward from there. I want to leave people better off than they started.
So, that's how I approach my brokers, colleagues, employer groups, friends, family. Also, I don't believe in grandfathering out of CE. This industry is forever evolving. Just like I don't want a surgeon who last took a course in technology 30 years ago, I expect the same from myself in regard to learning about insurance products, concepts and theory.
Last year I received my SGS and am working on my REBC right now. And my learning doesn't just stop with designations. I challenge myself to learn about well being, insurance laws, management and leadership.
BS: So what are you seeing in the market right now? GP: Well, for starters, the most successful brokers are the ones who aren't scared to learn, whether its new technology, new products or new concepts. Second, HRAs are picking up at a speed not seen in years. Business owners understand they can control their fixed costs, plan designs and cash flow just like large employers can and limit their exposure to whatever their risk tolerance is.
The brokers are becoming more sophisticated in understanding the benefits to themselves, the carriers, the business owners and their employees to this type of long-term strategizing. I also see long-term care sales increasing. These are the years baby boomers start aging into retirement. They are our fastest growing population segment. And, finally, it looks like wellness programs have actuarial data to prove their effectiveness in improving health and decreasing claims.
BS: So how are brokers responding? GP: In every challenge is an opportunity. Successful brokers look for the opportunity. A winner sees a green near every sand trap and a loser sees two or four sand traps near every green.
BS: And yourself? GP: I'm malleable. To be successful you have to be rigid in your morality and character… and flexible in everything else. I continue to learn, write CE, and look for opportunities to help someone.
BS: So what about someone trying to break into the business? GP: Manage your expectations and set goals. Go to work for someone with a lot of experience and learn. Join you local Health Underwriters or NAIFA chapter and go to the meetings. Membership is worthless if you don't interact. Look for a mentor.
I have been on the broker side, carrier side and TPA. Low man and top dog. The more you expose yourself, the better you understand the industry and the better you will be. Always think about how you can add value to someone. This is not a get-rich-quick industry. It's steady, consistent, and reliable…the money will come but that should not be the focus. It should just be a byproduct.
BS: So where do you see new brokers coming from, by the way? GP: Most independents I see these days are leaving bigger firms, or going the more traditional route: going to work for a family member with an agency…or the new trend setter? Starting up their own shop after being laid off.
BS: OK, I have to ask, where are you with regard to health reform? What are your thoughts? GP: Don't shoot me: Reform is a good thing. And [NAHU] played an impactful part in pushing for changes to it that benefit the broker. Now what we have isn't health care reform so much as it is health "carrier" reform.
True health care reform means educating the end users of insurance, giving them the tools to make informed decisions about health care finance like transparency, and shifting the paradigm away from sick care to prevention. Our system is broken and reform is the first step to changing it.
Reform of this magnitude will have some successes and failures. Rather than complain about what I don't like about it, I work with our local, state and national [NAHU] chapters to impact change­: writing letters, visiting congress people, letters to the editor, learning, teaching and helping others see the opportunities in this. Our industry is not dying — its changing. Agents with a diverse product offering will be just fine.