In last month's column, we looked at overall voluntary sales for 2010. In this edition, we analyze the results further by looking at product line sales as well as platform. As we reported last month, total 2010 voluntary sales for all products was $5.243 billion (down about 3 percent over 2009), according to Eastbridge's annual U.S. Worksite Sales Report.
Voluntary life sales accounted for 25 percent of all voluntary sales. This gave life insurance the top market share for the second year in a row. New life sales were $1.331 billion for the year, up just slightly (1.5 percent) over 2009. Term life generated the most sales premium in 2010 with just under $930 million, down one percent from 2009. Universal life and whole life sales had one of the few increases with $400 million in new sales, up almost eight percent over 2009.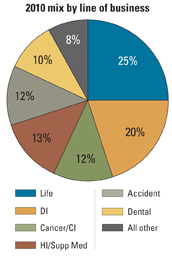 Disability products accounted for the next largest share of voluntary sales, coming in at 20 percent of the total. Both long and short-term disability sales were down again this year for the second year in a row. However, total disability sales were $1.046 billion despite the three percent decrease. Short-term disability accounted for 74 percent of all voluntary disability sales.
Accident sales accounted for 12 percent of total voluntary sales and hospital indemnity/supplemental medical was at 13 percent of total sales. These lines were followed by cancer and critical illness, with a combined market share of 12 percent. Most product lines were either down or relatively flat as compared to 2009. Universal life/whole life (as noted above) was up as was vision and long-term care.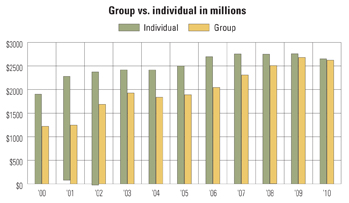 The mix of sales between group and individual platform products has almost reached an even split. Individual sales were only $25 million more than group this year. The mix is now 49.8 percent group and 50.2 percent individual. Both lines experienced decreases in 2010, but the individual line had a larger decrease (3.8 percent) compared to group (1.9 percent).