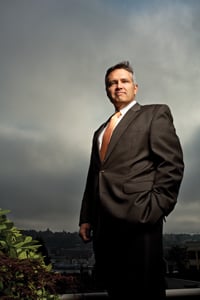 This is the story of the first person ever – that I know of – who actually meant to get into the insurance business. What else do you need to know?
"I actually did plan to get into the business," William Hill recalls. "I had a life-changing event that forced me to reconsider a life in the Marine Corps. One of my neighbors at the time worked at a national brokerage house and I admired his lifestyle. I asked about getting into the business and he sent me for an interview with The Equitable. I didn't relish the thought of selling life insurance and working nights, but I was told it would be good training before becoming a broker. So I spent two years there until I took a straight commission job working for a small consultant shop. That lasted two years, until I worked up the nerve to go it alone. I probably would have never picked the profession had I not been in such a desperate need for money. As you know, once you are in, you are in unless you want to make a major lifestyle change."
It seems to have worked out well. After getting his start in the business, he's made his way by becoming what one colleague called "a true individual worksite guy."
So, after putting in his time and overseeing the merger of two older brokerage houses into Visor back in 2009, Hill assumed the role of president and CEO of what their company website calls "one of the few insurance benefits companies in the country that can help employees design a personalized health care plan utilizing a full spectrum of insurance products."
A big proponent of bringing the individual and group markets together, Hill's ultimate goal is to put consumers more in control of their own benefit plans—along with the added responsibility that entails.
"I'm trying to leapfrog the next generation of strategy in benefit delivery," he explains. "I bought a worksite agency in Seattle in 2007 since I saw the health care reform changes coming and most of my firm's revenue sat in the core business. I had a partner at the time and he was supposed to run the Seattle location."
Of course, we all know what happens to the the best-laid plans.
"Things didn't work out," Hill says diplomatically, "so I ended up working in two different areas of the country running both agencies. Getting thrown into the worksite market forced me to learn that side of the business quickly, which probably wouldn't have happened without the circumstances. As you know, core producers are reluctant to learn the worksite side of the business. Fortunately, the Seattle office was able to offer best-of-class products, which gave me a broad understanding of product knowledge and a plethora of carriers to choose for enrollment. The experience has given me insight from both disciplines to develop strategies that will finally help employers end their health insurance financing problems. As the president of the agency, I was out introducing myself during a worksite enrollment when I met the new owner of one of our accounts. Their group had hit the premium wall and needed a new solution. That case and the implementation of the solution has become our BetterFits program. Most of my time now is focused on product development so the delivery process is smoother." Benefits Selling: Let's segue into the future of employee benefits. Between reform, Dodd-Frank and the economy, is there even a future for employee benefits? And if so, what shape will it take? How will it evolve and will that change include a role for brokers? And in what form?
William Hill: As I mentioned, most of my revenue was core benefit driven and that has now changed so that the mix is 50/50 with worksite. Our focus and mission is to get clients to think about integrating core and worksite in a complementary fashion to achieve the goals of the clients and their employees. I think when you start asking clients to think about the cost five years out, you get attention. Most employers are just happy to get through the next renewal with a 10 percent increase in medical rates. As I tell them, 'Think about the fact that you are happy when you get a 10 percent increase.' Most of my conversations with clients are more about the economics of providing a benefit program and the impact without proper planning. I am trying to get employers to realize that they have to start thinking differently about the financing of benefits and how giving the employees' personal responsibility will control plan expenses. This is a major paradigm shift. If you think about the way plans are delivered, employees are treated as if they don't know what is in their best interest. For some reason, there is this belief that a "good" plan is perfect for a 30-year-old and a 60-year-old. Fact of the matter is that the "good" plan is probably the most inefficient use of money on all employees. The 30-year-old will probably only engage the plan upon an accident or child care and has limited financial resources. The 60-year-old will probably not need maternity care and has more resources to absorb the additional risk of age. Redirection of the monetary resources would maximize efficiencies in the marketplace and satisfaction.
I think the biggest impact made on me has been the lifestyle change employees have made because of our BetterFits program. Everyone in the industry knows wellness programs are a waste of time and money, yet every insurance company keeps creating more advanced programs to help people develop a healthy lifestyle. I can name three employees right now who have lost a significant amount of weight so they could qualify for standard medical underwriting and get out of the state high risk pool. In 23 years, I have never been part of a program that has had such a positive result. Fact is, they probably need to lose more weight than they did but I would bet my program has improved the health of more employees than any insurance company wellness program.
The future isn't hard to tell any longer. I thought it would be a slow slide into a national program; I never expected the politicians to ignore or change the rules to get the legislation passed. There must be some larger message out there since the states are only putting up minimum resistance. In Missouri, the success of the ballot measure to eliminate penalties for not buying insurance has been totally ignored by the legislators who are working on the exchange even though failure of a state exchange is almost guaranteed without the penalty component. This undoubtedly will set up a Supreme Court fight. It's anyone's guess as to why the politicians are intentionally ignoring the will of the Missouri residents. Missouri has already tried to set up a statewide plan using all state and municipal employees as a base and it failed miserably. We are going to have a national health insurance program and the politicians have already demonstrated their willingness to bend the rules to get the program implemented.
BS: Closer to home, what is your firm doing to adjust to the new reality? And what will other brokers have to do to be successful?
WH: As bad as the final implementation will be for all of us in 2014, I think the outlook for the industry is going to be great for those who are willing to embrace the transition. Frankly, I'm happy for it. Group insurance commissions have been going down steadily the past 10 years and we need a new stream of revenue if we are to remain in business. In 2014, every employee will have to be informed about the exchanges and basically be given the funds to participate in the exchange. I can't wait. This means I get to sit down with an employee that has funds to spend on a program and help them design a plan that best fits their needs. Can you even imagine the worksite opportunity? Do you know how many enrollers it will take to explain the exchanges and help employees figure out how to spend their allotment? The industry does not have enough people in it to handle this task, in part due to the existing delivery system. There are a large number of brokers in their 60s right now and they have no intent on leaving the business. They are going to keep things status quo until they retire. I was just at an Anthem meeting as one of the two youngest brokers in the room. During the question portion of the meeting, the first question about commissions was responded to with 'there will be no change in commissions this year,' to which half the brokers got up and left the meeting. What incentive do these brokers have to do anything different?
BS: And, finally—for today, anyway—what advice do you have for new brokers? Or someone trying to get into the business?
WH: If a broker wants to stay in this business, they better figure out how to enroll employees one-on-one and have access to a number of worksite products to provide the best augmentation to the exchange plan the employee has selected. When I first became a broker, group commissions were 5 percent to 15 percent, now I am happy to get 2 percent to 3 percent on a group product. By using worksite products, I'm helping employees develop a plan with products that pay 50 percent to 90 percent and I don't have to fight to get them to spend the money. To give you an idea, my first BetterFits case doubled the commissions. We were making about $420/year per employee on the medical and worksite. After giving the employees the ability to design their own plan, the combined commissions were $920/year.
One of my younger brothers just started his career with my agency and is handling one of our BetterFits clients. This is a perfect opportunity for him as I remember one of the hardest parts of the job was finding enough prospects to speak to. That barrier has been eliminated since he's selling every time a new employee becomes eligible and he now has a platform to learn the sales skills necessary to approach employers about their employee benefit program.
"If a stranger asked me about it, I'd tell them to learn about the state exchange and any private exchanges in their area and then learn about all the worksite products available. Some worksite products aren't available in every state. Then start approaching small employers and enroll worksite products until 2014. When the exchanges are rolled out, the new agent will be in a perfect position to explain them and how worksite products can help augment their health plan selection.