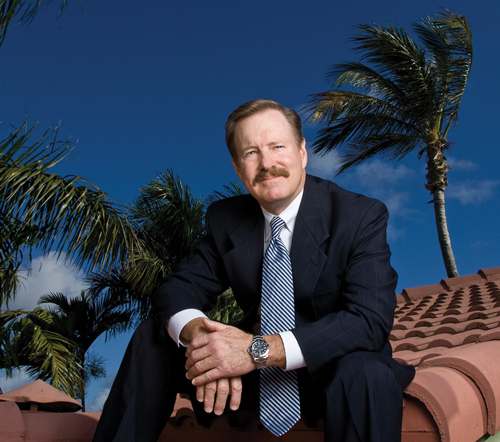 Photograph by Joshua Prezant
Since gracing the cover of Benefits Selling on our second issue, Ron Stone has continued as one of the leading independent worksite brokers in the country and one of the most civic minded ones in South Florida. Stone continues to serve on the board of his alma mater, the University of Miami, and sits on the Orange Bowl committee as well as a plethora of other organizations both in the community and in the industry. He is one of the most sought-after experts on the worksite market in the country.
When asked about Stone, one industry insider said, "Aside from being immaculately coiffed and impeccably dressed, he's one of the most important figures in the benefits industry, specifically in the voluntary world. Beyond that though, he is a great guy, though I'll never beat him at golf."
Between college visits with his son, we caught up with Stone to get him on record.
Protection. The insurance industry is a vital one for everyone. Obviously, we all know the importance of medical insurance but worksite products are just as vital. What we do is not just insure people, but we protect people and their financial security. If someone gets disabled without DI, or suffers a heart attack without CI, it can tragically change their life. The same is true if they die without life insurance; what happens to their family if they are dependent on that source of income?
Hero's work. A key to helping employers embrace worksite products and the concept of the industry overall is effectively telling them what we do; we make them look like a hero to their employees. That said, to make them look like a hero we have to be able to communicate to all the employees. Technology has given us new options and opportunities to help our clients but fundamentally having the right access, and having the best set up is key to a successful enrollment. If we can't get what we need to do our job the best way possible, it is in the client's (and our) best interest to walk away. That's the most difficult and most important lesson I learned.
Teamwork. Choosing partners wisely sounds cliché, but it is a truism. We all can benefit when we partner with the right carrier, the right technology company, enrollment firm or broker. Working together can help us all financially if we choose the right people with whom to partner. To find that right partner, you have to be the right partner. Every situation has to benefit all parties.
Road work. Also, to find the right partner it helps to know people. Attending conferences and meeting other insurance professionals can be so helpful to you and them. If there is something I need to discover or I need to find a solution for a unique issue, I simply reach out to one of the many people I've met.
Enrollment. Have an enrollment strategy and a re-enrollment plan. Rushing through a situation without properly planning for the proper set up, the meetings, the first, second, and third-year product mix, the effective communication with the employer and everything that's necessary for a successful enrollment will spell disaster for your clients and you. They will be soured on the concept of worksite and you might have a negative balance sheet.