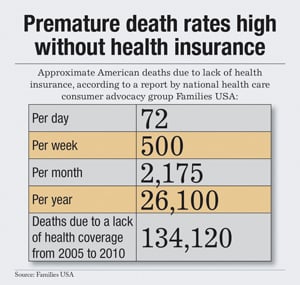 Not having health insurance isn't just a pain—it can be deadly.
According to a report by national health care consumer advocacy group Families USA, 72 Americans die each day, 500 Americans die every week and approximately Americans 2,175 die each month due to lack of health insurance.
Between 2005 and 2010, the number of people who died prematurely due to a lack of health coverage each year rose from 20,350 to 26,100. In that five-year period, the number totaled 134,120. Vermont had the fewest deaths with 28 while California had the most—3,164—according to the report.
The report found that the reasons for being uninsured varied, but many Americans had coverage denied because of pre-existing conditions. Many others, particularly during the recent economic downturn, have been priced out of the insurance market as they have struggled to maintain homes and feed their families in the face of continually-rising insurance premiums, the report says. Still other families have fallen victim to the decade-long decline in job-based coverage.
Families USA has been a big supporter of President Obama's health reform law, and says they see the law as a solution to help turn these figures around.
"The Affordable Care Act was passed by Congress to address an American tragedy and an American shame," says Ron Pollack, executive director of Families USA. "The fact remains that for the millions of Americans without health coverage, only the Affordable Care Act offers the promise of access to affordable coverage and to a longer and healthier life.
"Now the life of the Affordable Care Act itself has been put in jeopardy," Pollack says. "Getting rid of the Affordable Care Act, as some seek, wipes out the broad access to coverage coming in 2014, when millions of Americans will be eligible for assistance with the cost of health coverage, and when insurance companies will no longer be able to deny coverage to people with pre-existing conditions or charge them higher premiums.
The Families USA report, "Dying for Coverage: The Deadly Consequences of Being Uninsured," is built on the methodology of a report released by the Institute of Medicine in 2002. That report, "Care without Coverage: Too Little, Too Late," established the direct link between a lack of health coverage and premature death. In that report, the IOM found 18,000 adults between 25 and 64 died in 2000 because they didn't have health insurance.
"For almost 50 million Americans, not having health insurance isn't trivial, or just an inconvenience or a minor budget challenge," Pollack says. "Because of the way we currently provide and charge for health care, many millions of Americans without health coverage are denied regular access to quality care, and many of these people face an unjust sentence of a less healthy life and an earlier death."