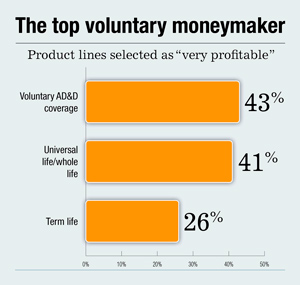 Brokers looking for a moneymaker don't have to look far out of the life insurance realm.
In a survey conducted by Eastbridge Consulting Group, carriers said life insurance is the most profitable of voluntary benefits.
This year, as last year, voluntary AD&D coverage received the highest rating, with 43 percent of the respondents selecting it as a "very profitable" product line. Universal life/whole life ranked just behind (with 41 percent), followed by term (with 26 percent).
"Although these products received the highest percentage rating them as very profitable, most carriers surveyed actually classified their products as having average profitability," Eastbridge Vice President Bonnie Brazzell explains.
Fewer companies ranked any product as "very profitable" this year.
"This year saw major swings in several lines. As an example fewer companies chose long-term disability, cancer, and hospital indemnity as very profitable causing them to fall out of the list of very profitable products," Eastbridge President Gil Lowerre says.
The voluntary products rated most frequently as "unprofitable" were dental, vision and critical illness insurance.
[See "Critical illness tops voluntary growth products"]
"This is somewhat surprising considering critical illness was ranked first by the survey respondents in terms of growth products in the next two to three years. What's more, both dental and critical illness had the highest growth rate (22 percent and 20 percent respectively) this past year," Lowerre says.