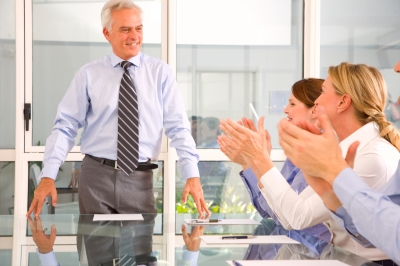 Need to get work done? Then stop talking to your coworkers.
A new poll reveals it might be time to shut up and step away from the water cooler. Office chit-chat ranks as the No. 1 work distraction, according to a survey of office workers released today by TrackVia, a Denver-based software company.
And technology doesn't always make work easier: Computer problems are the second biggest work distraction. Employees also don't love being trapped in meetings during their work week—almost 40 percent say most of the meeting time is wasted.
Other time wasters include surfing the web, social media, dealing with office politics and addressing misunderstandings with coworkers. Nearly 20 percent of employees say they waste up to two hours in a typical week navigating or dealing with office politics alone, with 7 percent estimating they spend at least six hours on it.
Slightly more than half of employees surveyed say they waste up to two hours a week on tasks that aren't work related or don't help them "get real work done." Approximately 11 percent say they waste 6 to 9 hours on nonessential tasks, and close to 4 percent say they waste 10 to 19 hours during the work week.
Overall, workers think rules are good: 15 percent say their productivity increases thanks to rules and policies in place at work.
The survey of 300 workers was conducted this month.