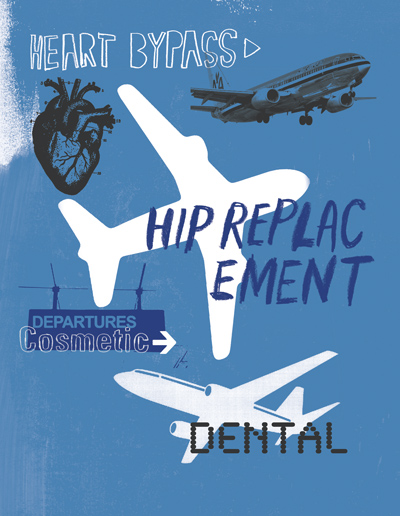 Pro athletes are some of the most famous medical tourists in the world.
Denver Broncos quarterback Peyton Manning traveled to Europe for surgery on his neck so he could resume his pro football career. Kobe Bryant and Alex Rodriguez have traveled to Germany to get medical procedures for various joints. And what serious sports fan isn't relieved when they hear a favorite player will travel to Birmingham, Ala., so renowned sports doctor James Andrews can operate and return them to glory?
But medical tourism isn't just for the rich, famous and often sacked.
Hundreds of thousands of Americans travel for health care every year. And now that the Patient Protection and Affordable Care Act is here, leaders in the medical tourism industry expect more Americans to seek health care elsewhere.
Brokers and agents looking to navigate the stormy waters of a post-PPACA world should learn about medical tourism and be prepared to discuss it with clients or potential clients. As health reform becomes reality, employers will be looking for ways to reduce costs, expand options and improve quality—and medical tourism can address all three.
"The more employers get squeezed, the more we have to find options for them," says Trish Freeman, owner and agent at Trish Freeman Insurances Services in Gonzalez, La. "For my block of business, come 2014, what's going to happen? No one knows. What if everyone moves to the exchanges? Where does that leave brokers like me? Possibly without a job. Medical tourism gives you an opportunity to help someone who's struggling to pay bills and may be at the end of their rope, and you can say, 'Here, I have another option and why don't you consider this?'"
What is it?
Simply stated, medical tourism is when patients travel to obtain health care. Destinations can include domestic and international medical facilities. Top international destinations include Brazil, Costa Rica, Japan, China, India, Turkey, Israel, Jordan, Germany, Thailand and Mexico. And there are many others.
Attitudes about medical tourism have changed over the years, with a 2009 Gallup study showing that 29 percent of Americans would consider getting medical care outside the United States.
People travel for prescribed, elective and experimental medical procedures. Most of the time, medical tourists work with facilitators understand where they're traveling, speak English and provide concierge services. Some international hospitals even have programs catering exclusively to international patients or partner with recovery centers for their foreign patients.
So far, employers with self-funded health care plans lead the way in offering medical tourism as a benefit, mainly because these organizations are generally more risk-averse in their attempts to control costs. But that's not to say fully insured providers aren't taking notice. Blue Cross Blue Shield of South Carolina launched Companion Global Healthcare in 2007 to reap medical tourism's advantages.
"One complaint I hear about brokers selling health plans is that there's nothing new ever," says Robert Repke, CEO of Global Medical Conexions in San Francisco. "This is something different."
Reducing costs
Perhaps the single biggest reason brokers should talk about medical tourism with their clients or potential clients is cost reduction. International and domestic medical tourism can save employers money—and a lot of it.
With international medical tourism, employers and patients can save anywhere from 5090 percent, according to some industry estimates. Why? Medical care is so much cheaper overseas.
For starters, the cost of labor is lower in other countries, which contributes to savings on hospital staff and employees as well as reduces the cost of medical devices. American doctors and health care workers are paid much more than their international counterparts. Foreign countries also have less stringent regulations and less litigious societies. In the United States, it can take 10 years to get a drug through the FDA and litigation is almost a given.
Because American health care costs so much, employers can often pay for the procedure, the travel to the destination and the entire lodging bill in a foreign country and come out ahead.
"The quality is equal to what they would get and in some cases better than what their employees would get at their local hospital," says Jonathan Edelheit, CEO of the Medical Tourism Association. "We have an amazing health care system in the United States, but we work with the top hospitals in the world. Why not give the option for employees to go to the best place in the world?"
With domestic medical tourism, employers can take advantage of hospitals and clinics that specialize in performing a certain type of procedure or providing a certain type of care. Often referred to as medical centers of excellence, facilities that specialize in certain types of care reduce costs by performing more procedures, investing in their facilities to increase rates of return, attracting top doctors and incurring lower rates of malpractice and re-admission costs.
"If you do something frequently and you have the best people and you have the best processes you've gotten the error out of the system," says David Vequist, director of the Center for Medical Tourism Research at the University of the Incarnate Word in San Antonio, Texas. "Re-admissions add quite a bit to the cost of health care overall."
More options
Under the PPACA, employers already have started reducing their offerings to save money. That means health insurance plans may limit what they cover or discontinue some coverage altogether. Dental and vision plans—once considered standards—are now being reduced or even dropped from health care plans altogether.
Medical tourism, however, gives brokers a tool to put in front of employers that want to continue offering robust health plans or even expand options for their patients. Medical tourism is largely a voluntary benefit, so employers can add them to their benefits packages and expand health care options with little or no effect on the bottom line.
"It offers a broker an opportunity to provide a unique service to their client," Repke says. "The way we have it set up, we don't charge for a service until a client uses it. A broker could add our network for free and deliver something unique and high quality to their client without having to change the plan. They could offer just elective services—things like cosmetic surgeries, weight loss surgeries and dental. You could offer it to families and extended families, too."
Repke adds that medical tourism allows employees access to experimental procedures that may be unavailable in the United States.
Medical tourism also puts the employer and the employee on the same side when it comes to health care decisions.
"PPACA will drive up premiums and that will drive the consumer-directed market, enabling employees to be bigger directors of what they spend," says Tom O'Hara, president of Surgical Trip, Rednor, Penn. "People want to go to top-quality places. People want to have options. Medical tourism is perhaps the best way to give the quality of health care choices they desire while alleviating the cost they're incurring."
Access to quality
An open question about Obamacare is whether it will improve the overall quality of American health care. While that will take some time to figure out, medical tourism already provides employees with access to top-quality health care.
For instance, Lowe's, a national chain of home improvement stores, recently announced a partnership with the Cleveland Clinic to offer heart surgery for employees and their dependents who participate in the company's self-funded medical plan. As part of the program, Lowe's covers medical deductibles, coinsurance amounts, travel and lodging expenses for the patient and a companion plus concierge service.
Yes, the arrangement saves Lowe's money. But it also gives their employees access to a medical facility that's routinely rated the best place in the world for heart treatment.
"In working together with Cleveland Clinic, our employees will be able to experience the best of the best in health care with lower out-of-pocket expense than having the surgery at another facility," says Bob Ihrie, Lowe's senior vice president of employee rewards and services in a statement. "We believe that having the correct diagnosis, combined with surgery by the undisputed leaders in this field, will produce the highest-quality outcomes for our employees."
In the future, the PPACA could increase the time it takes to get a procedure, making Americans participate in a health care system that's more like those found in Europe and Canada. Medical tourism can step in and reduce potential wait times or give employees access to procedures much more quickly.
"My suspicion is that as utilization gets to levels elsewhere, then Americans will have to wait weeks and months for certain types for procedures," Vequist says. "If you tell a woman they're going to have to wait seven-and-a-half weeks to get a scan of a lump in her breast, they may want to go to Mexico or fly to India that week."
Important answers
Brokers should know that several organizations make sure foreign medical standards meet or exceed U.S. standards. One such body is the Joint Commission International, which works with medical facilities and foreign governments to enact high standards of care around the world. Currently, the JCI is present in 90 countries.
Also, medical tourism providers also seek out medical facilities that align with American medical facilities through partnerships. For instance, top hospitals like the Memorial Sloan-Kettering Cancer Center and Johns Hopkins partner with medical facilities across the globe.
Reputable medical tourism providers also conduct their own assessments of foreign medical facilities and build relationships with top-performing medical facilities.
"We've gone around the world and personally visited every hospital in our network," Repke says. "We have picked countries where we personally would feel comfortable traveling. We pick countries that aren't volatile and have a stable economy. We pick hospitals that have strategic liaisons with hospitals in the United States and they're fully accredited so the way they run their hospitals is recognized by U.S. standards," he says.
Third-world countries aren't on the list, nor are places that aren't easy to get to and where English isn't spoken, he says.
"If I send you to Panama, which has a great hospital with a Johns Hopkins affiliation, someone would be there to hold your hand all the way through," Repke says. "We arrange for the individual to have a phone interview and Skype sessions with the hospital before making a decision. We want to make it comfortable for anyone who uses our service."
Creative solution
Many medical tourists have high praise for their experiences.
"Pretty much to a person, people have been ecstatic about the service and the procedures and the welcoming accommodations they go into," O'Hara says. "It's been exceptional."
So as health reform continues to affect American health care and the news about medical tourism gets out, brokers shouldn't be afraid to offer out-of-country solutions to in-country problems.
Freeman says she has talked medical tourism with many of her clients. It's not the easiest subject to bring up, but it's a discussion definitely worth having.
"People are kind of shocked the first time you mention it," Freeman says. "The next time they say, 'It's not that bad an idea.' They see people aren't dying, so the more you educate, the more they get comfortable with the idea. Then they start asking real questions."
Illustration by Gary Sawyer/agoodson.com