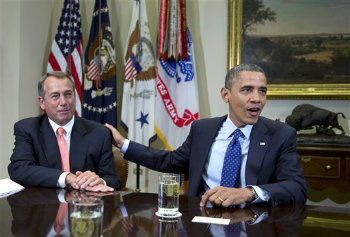 WASHINGTON (AP) — White House and congressional negotiators will have to clear a series of high hurdles to avert a package of tax increases and spending cuts by year's end.
Arguments over tax rates top the list.
President Barack Obama says the richest Americans must pay higher tax rates. Republicans say they'll block such efforts.
Other hurdles have been erected by powerful lobbies to protect everything from benefit programs such as Social Security and Medicare, to tax deductions for interest on home mortgages and contributions to charities.
Republicans from safe, conservative districts see little political incentive for compromising with Obama even though he won re-election.
Politicians in both parties dread imposing painful changes on Americans who for years have enjoyed high levels of government service at historically low tax levels.