Despite their best hope for a brighter future after this year's divisive election season, American investors – working to build whatever retirement savings they can – are not particularly optimistic about the post-election economy.
At the same time, investors polled in the newest quarterly installment of the Wells Fargo/Gallup Investor and Retirement Optimism Index say they understand how important 401(k) plans are to retirement savings and also say they believe that saving should be a national priority, with more forms of federal encouragement.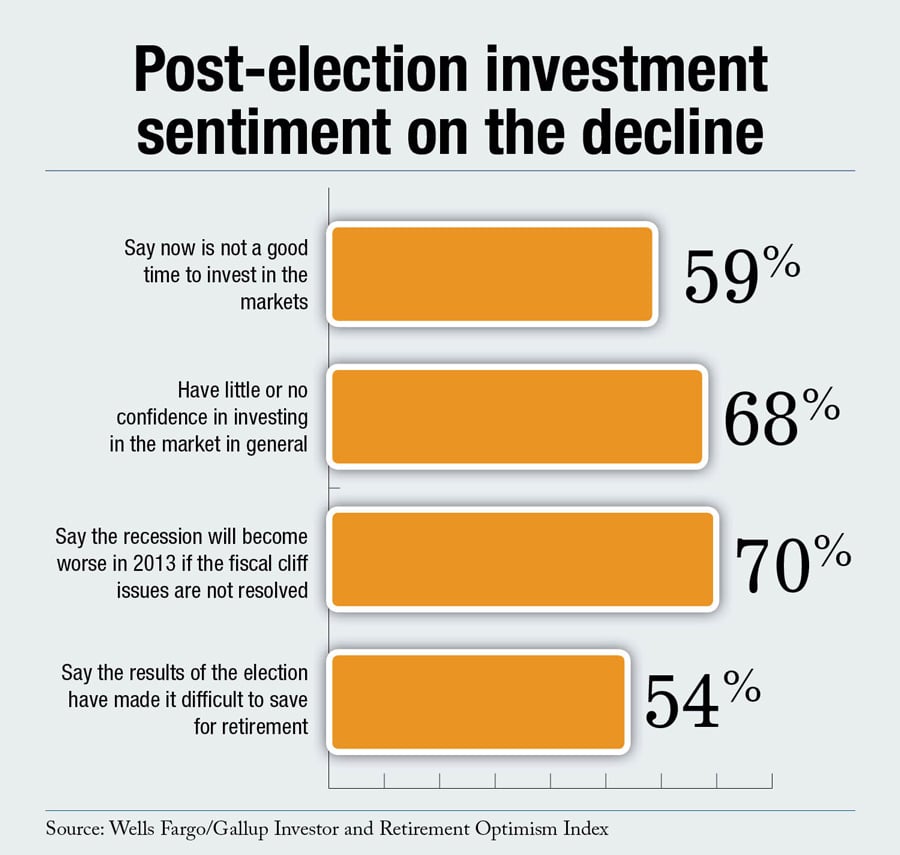 More than half (58 percent) went so far as to say that the responsibility for building a safe retirement is a shared responsibility between the government, businesses and the individual; 38 percent said that responsibility should fall on the individual alone.
The study, conducted two weeks after the election, indicates that overall consumer confidence has dropped to -8, a long drop from the +16 figure recorded in July and +24 recorded in May.
While the number is bad, researchers say it's equivalent to a similar -9 index recorded in Nov. 2011 and is more likely connected to the country's continued economic troubles. As a benchmark, the index had a baseline score of 124 when it was established in Oct. 1996, hitting a peak of 178 in Jan. 2000 and an all-time low of -64 in Nov. 2009.
And the pessimism is quite clear: Some 59 percent of those surveyed say now "is not a good time" to invest in the markets (up from 48 percent in May), and 68 percent say they have little to no confidence in the stock market as a place to invest for retirement.
What's worse, the economic disruption and questions on the real impact of the ongoing fiscal cliff fight is also dampening any enthusiasm investors had for getting their investments back on track.
Seventy percent say they believe the country will go into an even worse recession in 2013 if those fiscal cliff issues are not resolved. All totaled, 54 percent of investors say that the outcome of November's Presidential and Congressional elections have made it difficult to save for retirement.
"No question about the fact there is a gloomy sentiment among investors right now, and it looks like it's connected to a belief that the elections [have resulted] in more Washington gridlock," said Joe Ready, director of Institutional Retirement and Trust at Wells Fargo.
"The fact that 80 percent of investors say we need a national effort in place to encourage Americans to save is eye opening. Clearly people want to feel like they have the wind at their backs and the tools to increase savings."
The good news, Ready explains, was the discovery that 83 percent of those polled say the 401(k) and other tax-advantaged accounts are extremely important to helping Americans retire comfortably in the future.
Sixty-nine percent also say it's very important for the government to find ways to financially encourage every company in the country, big or small, to establish a 401(k) plan option for its employees and that the government should also work to encourage individuals to participate. Strong sentiment was also given for government help in finding quality investment advisor advice or to allow participants more flexibility with their 401(k) savings.
Despite their concerns about the current crisis's impact on the stock market, a slight majority of investors (52 percent) say they have not reduced their investment in the markets.
However, of those who pulled their retirement savings money out of the markets over the past four years, two-thirds say they have no regrets doing so, and 70 percent say they will continue to stay out of the market for the time being.
The study contacted 1,024 investors from across the country.