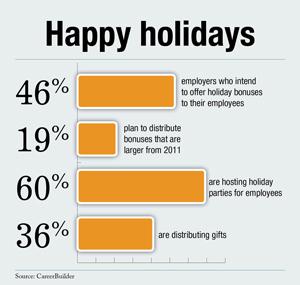 More employers are planning to give their employees holiday perks, such as bonuses, parties and gifts, than they did last year, according to a national study by Harris Interactive on behalf of CareerBuilder.
In fact, 46 percent of respondents intend to offer holiday bonuses to their employees, an increase from 40 percent in 2011 and 33 percent in 2010. Nineteen percent of respondents even plan to distribute bonuses that are larger from 2011.
Another 60 percent of respondents report that they are hosting holiday parties for employees in 2012. This is higher from 58 percent in 2011 and 53 percent in 2010. Of the employees that are receiving holiday parties, 40 percent say they have plans to attend.
More employers are also feeling generous when it comes to gifts as 36 percent say they are distributing holiday gifts, an uptick from 30 percent in 2011 and 2010.
Among employees, 23 percent say they are buying holiday gifts for co-workers this year while 22 percent of employees say they are buying gifts for their bosses. For the respondents who plan to buy gifts, 81 percent say they do not anticipate spending more than $25 for each gift, and 38 percent say they plan on spending $10 or less. Ten percent of respondents believe they will spend less than $5.