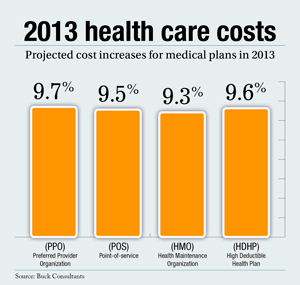 Projected cost increases for all types of medical plans will likely be down by between 0.2 and 0.6 percent through the first half of 2013, according to a new survey by Buck Consultants. It's the first time since 2001 that the survey indicated projected cost increases less than 10 percent for any plan type, a trend that will continue into 2013.
In a national survey of 123 insurers and administrators, Buck measured the projected average annual increase in employer-provided health care benefit costs. Insurers and administrators providing medical trends for the survey cover a total of approximately 109 million people.
The consulting firm found that PPOs will increase by 9.7 percent, POSs will increase by 9.5 percent, HMOs by 9.3 percent, and HDHPs by 9.6 percent. All four health plans increased by 9.9 percent in last year's survey.
Still, health care costs continue to be problematic.
"Despite the lower trend, though, health care costs continue to outpace general inflation—creating difficult business decisions for organizations," says Daniel Levin, a Buck principal and consulting actuary who directed the survey. "The stubbornly high costs can be attributed to several trends, ranging from a greater use of diagnostic tests and treatments to mandated coverage of certain benefits. Employers need to decide how much of these increases to pass on to workers, or whether to drop coverage and pay the penalties imposed by the Affordable Care Act."
Levin also noted that he'll be watching the impact of private health insurance exchanges this year as it could likely impact the projected cost trends measured in the survey.
Health insurers reported an average prescription drug trend of 10.1 percent, an increase of 0.5 percent from the prior survey. It's also more than twice the 4.1 percent reported by pharmacy benefit managers—third-party administrators of prescription drug programs, who generally don't take any underwriting risk. The continued shift to generic drug use is a significant factor in the reduced drug trends shown by PBMs.
For plans that supplement Medicare, health insurers reported a trend of 5.4 percent excluding prescription drug coverage, down from 5.8 percent in the prior survey. This lower trend of Medicare Supplement plans reflects the impact of federal controls on Medicare fees and the lower increases expected in Medicare deductibles and copays.