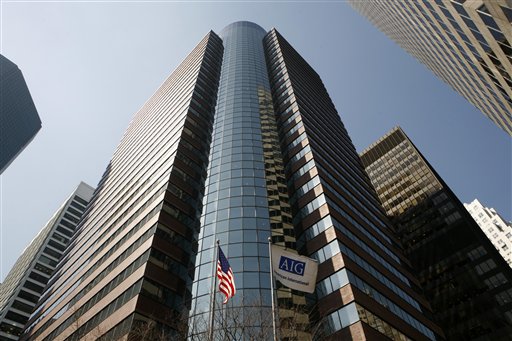 American International Group won't join or take over a lawsuit filed by a firm headed by its former chairman and chief executive officer alleging that the government acted punitively against its shareholders when it acted to bail out AIG starting in September 2008.
Its board cited certain reputational damage in deciding not to pursue the action, a statement said.
According to court documents, AIG had been postponing a decision for at least six months.
"The AIG board has determined to refuse Starr's demand in its entirety, and will neither pursue these claims itself nor permit Starr to pursue them in AIG's name," the board said in a statement issued at 3 p.m., following a meeting.
The statement said that AIG expects to file with the courts a formal statement detailing the board's determination and the reasons underlying it in the coming weeks.
"In considering and ultimately refusing the demand before us, the board properly and fully executed our fiduciary and legal obligations to AIG and its shareholders," said Robert S. "Steve" Miller, AIG chairman.
"America invested in 62,000 AIG employees, and we kept our promise to rebuild this great company, repay every dollar America invested in us, and deliver a profit to those who put their trust in us. To date, AIG has returned $205 billion to America,
It turns out that AIG was considering the lawsuit under duress, through a provision of Delaware law, where it is incorporated, that allows shareholders, such as its former chairman, to file "derivative" lawsuits on behalf of shareholders when a firm decides not to pursue a claim.
According to the documents, AIG's hand was forced because Starr International and Maurice "Hank" Greenberg, former chairman and CEO of AIG and controlling shareholder of Starr, demanded that AIG act.
Starr, the predecessor company of AIG, owns 12 percent of AIG.
Now, based on today's action, it is likely, based on court documents, that Starr and Greenberg will refile their lawsuits against the Federal Reserve Board and the Treasury Department as derivative lawsuits, industry lawyers believe.
One lawsuit, against the Fed in New York, was dismissed in November, except for some constitutional claims.
The Washington lawsuit seeks $25 billion. The suit claims that the nature of the government rescue of AIG was punitive because the Fed originally charged AIG an interest rate of 14 percent on its original $85 billion loan, and that the Fed unfairly paid counterparties to credit default swaps issued by AIG's Financial Products subsidiary 100 cents on the dollar, when it was possible that the counterparties would have accepted less.
Court documents indicate that the original deal on Sept. 16, 2008, called for the government to follow up its initial $85 billion in aid with another $37.8 billion the following month.
AIG acted today against the background of fierce criticism of its decision to consider acting against the government that bailed it out, a decision which is allowing it to remain a viable company with a forceful presence in both the property and casualty insurance markets.
Besides criticism from the general public and some lawyers, Democrats in Congress, both in the House and Senate, voiced outrage that AIG was considering joining the suit.
"It is simply outrageous that the board of the AIG would even consider suing the federal government after America's taxpayers stepped up and bailed them out over their bad bets on mortgage-backed securities," said Rep. Maxine Waters, D-Calif., incoming ranking minority member of the House Financial Services Committee.
Sen. Elizabeth Warren, D-Mass., added that, "AIG's reckless bets nearly crashed our entire economy."
She said that, "Taxpayers across this country saved AIG from ruin, and it would be outrageous for this company to turn around and sue the federal government because they think the deal wasn't generous enough."
Warren added that, "Even today, the government provides an ongoing, stealth bailout, propping up AIG with special tax breaks — tax breaks that Congress should stop. AIG should thank American taxpayers for their help, not bite the hand that fed them for helping them out in a crisis."
The issue had been simmering for many months and that courts in both Washington and New York were forcing AIG to show its hand.
Indeed, one document indicated that AIG had been asked by a New York judge to show its hand last August.
Robert Benmosche, president and CEO of AIG disclosed late Tuesday that Starr and Greenberg had made a "demand" to the board Sept. 12 to either decide to take over the Starr/Greenberg suit against the government, or that Starr/Greenberg would do so under the Delaware provision allowing outsiders to file "derivative" lawsuits on behalf of shareholders in cases where the company decides not to do so.
The issue was discussed in the November court decision by Judge Paul A. Engelmayer of the Federal Court for the Southern District of New York dismissing Starr's suit against the Federal Reserve Bank of New York, which oversaw the federal government's bailout of AIG.
In the final page of his 87-page decision, Engelmayer said he was reserving decision on one aspect of the government's motion to dismiss the Starr claim because that would have given Starr the authority to pursue some claims against the government on behalf of AIG shareholders without AIG's involvement.
The paragraph said Engelmayer had "strongly encouraged" AIG to decide whether it would take control of the suit on behalf of AIG shareholders during oral arguments on the suit in August.
But, Engelmayer said, the AIG board had decided to postpone until January whether to do so.
Benmosche noted that in his statement. "Under applicable law, as well as according to certain court rulings, the AIG board must consider and respond to Starr's demand, and expects to do so by the end of January 2013," Benmosche said.
The allegations on which Engelmayer withheld judgment are on violation of the Equal Protection, Due Process, and Takings Clauses of the Constitution.
In his November decision, Engelmayer implied that he would act quickly on the remaining issues in the lawsuit against the Fed once AIG decided whether it wanted to join the suit.
That leaves the Washington suit outstanding. Judge Thomas Wheeler is handling that case. He also had delayed action pending the AIG board decision.