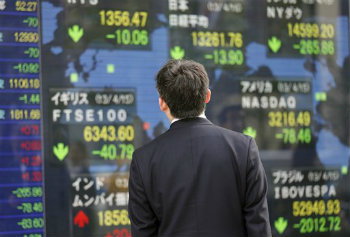 NEW YORK (AP) — U.S. stock futures rebounded sharply Tuesday after the Dow's worst day this year, with more U.S. corporations putting up strong quarterly numbers and more evidence of a recovery in housing.
Gold prices, which hit two-year lows Monday, bounced back early Tuesday, though a sell-off in energy futures continued.
Dow Jones industrial futures rose 139 points to 14,651. The broader S&P futures added 14.3 points to 1,557.80. Nasdaq futures gained 26.25 points to 2,809.50.
The rebound in U.S. markets gained momentum after the Commerce Department said that homebuilders broke ground on a million homes in March, the fastest pace in nearly five years.
However, the gain was driven by a 31.1 percent in apartment construction – a volatile category – and the report led to some trepidation over future projects.
Applications for building permits, considered a good barometer of upcoming construction, declined 3.9 percent to an annual rate of 902,000.
And single-family home construction, which represents nearly two-thirds of the market, fell 4.8 percent March. That's down from a nearly five-year high in February.
But inflation appears to be in check. The Labor Department said Tuesday that consumer prices declined last month as the cost of gas fell sharply and food prices were unchanged.
Gas prices fell 4.4 percent, reversing part of February's 9.1 percent gain.
Coca-Cola reported better than expected profits for the first quarter Tuesday, as did Goldman Sachs and Johnson & Johnson.
The maker of Tylenol, prescription drugs and medical devices saw profits fall by almost 11 percent, but excluding one-time charges, it beat Wall Street expectations.
The Federal Reserve is expected to report that industrial production picked up slightly last month.
Intel, Yahoo and the CSX railroad report earnings after the closing bell.