Design is not just what it looks like and feels like. Design is how it works.
~ Steve Jobs
It is doubtful that Steve Jobs was thinking about employee benefit programs when he made this statement. Yet, it is as applicable to employee benefits as it is to technology. Good design is critical to achieving good outcomes.
A useful framework for benefit designs that produce good outcomes consists of the four B's: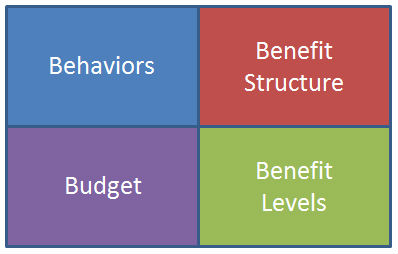 The tendency of many companies is to first and foremost look at budget. That is the one objective that is probably easiest to achieve, but easy does not necessarily translate into pleasant. Companies can change employee contributions, retirement plan match rates, or benefit levels to achieve their budget goal.
See also: Behavioral finance techniques really work in 401(k)s
It is much more important to start with the desired outcomes or behaviors. What behaviors does the company want from employees as a result of the benefit program? The company may want employees to save more for retirement. Or, they may want employees to improve their health as a way to help manage overall healthcare costs. Having a good understanding of the actions the company wants employees to take helps the company design benefit structures that motivate and reinforce the desired behaviors.
For example, if the company wants employees to save more for retirement they may include a design feature that "stretches" the employer match. Stretching the match encourages employees to save at higher levels in order to get the full employer match without requiring an additional outlay by the company. Similarly, the employer may add a health savings account to encourage employees to become more engaged in their health.
A helpful approach to design is to have desired behaviors drive benefit structure decisions and let the budget drive benefit level decisions. This creates alignment and helps ensure that the benefit programs ultimately tie to desired behaviors.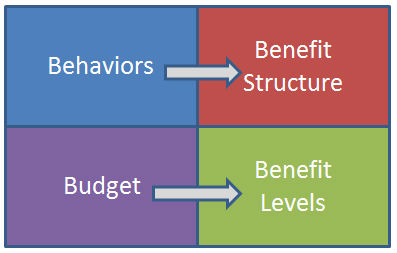 The company may also target desired behaviors that go well beyond the benefit program. For example, the employer may want to engage employees in reducing costs, increasing client satisfaction or increasing revenue. Although many would say these goals are beyond the reach of employee benefits, companies that sponsor Employee Stock Ownership Plans (ESOPs) may disagree.
ESOPs are qualified retirement plans that are invested primarily in the stock of the sponsoring company. As the company experiences success and the stock price increases, so does the balance of the participants' retirement accounts. This provides a clear link between the actions of employees and their own personal financial situation.
The power of this link has been well documented over the years and most recently in the May 2011 Employee Ownership Foundations 20th Annual Economic survey of ESOPs. The survey found:
73 percent of respondents indicated that the ESOP positively impacted employee productivity;
80 percent saw their stock value rise in 2010 despite the slow recovery; and
92 percent said that creating the ESOP was a good business decision that helped the company.
Steve Jobs could have added to his quote that, for design to work, it needs to begin at the end – making the desired outcomes the foundation.
No investment strategy, such as asset allocation or diversification, can guarantee a profit or protect against loss in periods of declining values. Company stock is not a pooled investment. Stock may experience greater volatility and should not be directly compared to investment options that have a more diversified investment mix. It is not intended to serve as a complete investment program by itself.
While this communication may be used to promote or market a transaction or an idea that is discussed in the publication, it is intended to provide general information about the subject matter covered and is provided with the understanding that none of the member companies of The Principal are rendering legal, accounting, or tax advice. It is not a marketed opinion and may not be used to avoid penalties under the Internal Revenue Code. You should consult with appropriate counsel or other advisors on all matters pertaining to legal, tax, or accounting obligations and requirements.
Insurance products and plan administrative services are provided by Principal Life Insurance Company a member of the Principal Financial Group (The Principal), Des Moines, IA 50392.