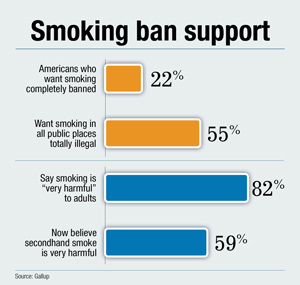 A handful of Americans want smoking snuffed out completely.
More Americans than ever—22 percent—say they want smoking to be completely banned, up from 12 percent in 2007. That's according to a Gallup survey of more than 2,000 Americans.
Though it's still a relatively small percentage, researchers say it's still important since smoking stirs up a nationwide debate. Though smoking remains legal in every state, more universities, workplaces, restaurants and other public places are banning Americans from lighting up, citing health concerns.
That's an initiative most Americans appreciate. Gallup found that more than half of Americans—55 percent—think smoking in all public places should be illegal.
The majority (82 percent) say smoking is "very harmful" to adults, while another 13 percent deem it as "somewhat harmful" and just 4 percent see it as not too or not at all harmful.
Gallup also found that a new high of 59 percent now believe secondhand smoke is very harmful, and another 29 percent believe it is somewhat harmful.
That's not the consensus from smokers themselves, though. They are significantly less likely to see smoking as very harmful: 63 percent of smokers say so, versus 82 percent of all adults. Smokers also see secondhand smoke as less harmful than the majority of nonsmokers.
Gallup noted that 28 states and the District of Colombia now have laws that prohibit smoking in most public places and workplaces, including restaurants and bars.