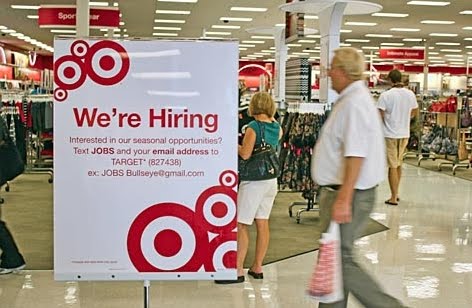 Target, Macy's and Kohl's are doing it, as are Walmart, Amazon and Toys R Us.
Retailers across the country appear to be on a hiring binge, a surge that began in October and is so pronounced that Challenger, Gray & Christmas Inc. is calling it the strongest start to holiday hiring in 14 years.
The 159,500 net new jobs in retail in October marked a 6.7 percent increase from October 2012, when retailers increased their payrolls by 149,400, the outplacement firm said.
According to its analysis of Bureau of Labor Statistics data, it was the most new hires in the first month of the annual holiday hiring period since 1999, when retail employment expanded by 172,200 in October.
"Strong October hiring does not necessarily mean that holiday hiring will surpass last year's level, but it is certainly a good sign," said John A. Challenger, CEO of Challenger, Gray.
Last year, the three-month holiday hiring period resulted in 751,800 new jobs being added by retailers; the most since 2000, when retailers added 788,200 workers during the final three months of the year.
Last year's holiday hiring binge brought retail employment in the sector to 15,538,300 in December, the month in which retail employment generally reaches its annual peak. That was the highest number of retail workers in a December since 2007, when employment reached 16,156,400.
The National Retail Federation is expecting holiday sales in November and December to increase by 3.9 percent, up slightly from last year's 3.5 percent holiday sales growth.