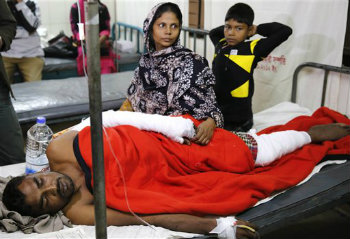 The inclusion of a tax on medical devices has opponents of the Patient Protection and Affordable Care Act arguing that manufacturers will be less inclined to pursue new life-saving and cost-cutting technologies. In response, some health professionals are looking to developing nations — where expensive treatments remain financially unrealistic — for inspiration.
It is known as "reverse innovation" — the idea that doctors who assist in providing care in developing countries often return with fresh approaches to treatment — and it's becoming more common as costs in the United States continue to rise.
A recent series profiling Bangladesh's creative approach to care, published in The Lancet medical journal, attributes that country's health advances to a continued focus on mobilizing community health workers, as well as a government commitment to partnerships with not-for-profit organizations.
It may be one of the poorest — and most populated — countries in the world, but Bangladesh now has the longest life expectancy, lowest number of births per family and lowest infant and under-5 mortality rates in south Asia. It also spends less on health care than most of its neighbors.
This success, 40 years in the making, is in large part thanks to a sustained government commitment to training countless community health workers and is the kind of innovation that has proven vital to the success of universal health care programs around the world. It also serves as a model for the American health care system.
"Working in developing countries, we've found that by using solutions that are extremely low-tech and then scaling up, care providers can make money while keeping treatment affordable," says Scott MacMillan of BRAC USA, the U.S. affiliate of BRAC, the world's largest NGO.
The study stresses that consistent investment in community health workers improves the frequency and quality of treatment. "It's important to have somebody from the community — it doesn't even have to be a doctor or midwife – to provide care," MacMillan says. "We have to have faith in the capacity of people."
In developing countries, medical costs are often paid out-of-pocket, which can be a debilitating expense to a country's poorest citizens. Many go without treatment or get by on the limited quality they can afford — similar to the United States, where a recent study from NerdWallet Health shows that more than half of all personal bankruptcies are due to medical expenses.
Experts believe creativity in improving the effectiveness and quality of treatment should not be reserved for expensive, tech-based solutions.
"We've seen that recruiting community health workers who are mission-oriented and compassionate to compliment a health delivery team can make a huge difference in a hospital," says Dr. Heidi Behforouz, executive director of the Prevention and Access to Care and Treatment program in Boston. "When we measure success it's not just about improvement in bio-markers, but also about having a meaningful life."
PACT operates under a community health worker model conceived by Partners in Health, a global non-profit originally based in Haiti. Care for chronically ill patients in the program is comprehensive, including social resources, antipoverty services and continued support from trained community health workers, in addition to medical treatment.
By reducing the need for expensive crisis treatments and unnecessary hospital visits, the program has yielded a 16 percent reduction in Medicaid expenditures for Boston's most vulnerable patients. However, despite financial success, the program has faced obstacles.
"There was resistance from health care providers about incorporating people who aren't licensed, but also institutional and systemic barriers like lack of funding protection for community health workers," Dr. Behforouz says.
PPACA does include funding for a number of programs that feature community-based models: Accountable care organizations will focus largely on care coordination between multiple providers, while Patient-Centered Medical Homes will focus on comprehensive care throughout a patient's life. There are also financial incentives being offered for improvements in efficiency and management-based technologies.
However, the effectiveness of the dedicated funding — $11 billion over five years — has been constrained by wider government budget cuts. So far, only $3 billion has made it through Congress.
An effort to repeal the medical device tax played a key role in Congressional bargaining surrounding the recent debt-ceiling debates and a strong medical-device industry lobby will see that it stays a part of the conversation, but emphasis on a community-based approach — shifting some accountability to the local level rather than relying entirely on the federal government — could find favor among PPACA's big government critics.
"The impact [of the tax] will be marginal and no more than the impact on any other health industry sectors that have been asked to pay for some portion of implementing the ACA," says Dr. John McDonough of the Harvard School of Public Health. More importantly, he believes, is that "the ACA supports the expansion and development of community health centers, a major expansion of the National Health Service corps, community health workers and lots more. This is the most important set of delivery system reforms ever."
Developing delivery methods that account not only for procedures and drugs, but also for the social and structural barriers to care, requires an expansive approach. It is in this creative space that lessons from the developing world will prove most useful.
"The future of health care innovation is a national focus on wellness and prevention instead of symptom management," Dr. Behforouz says. "We need to shift the primacy of health care delivery from the hospital to the community and, yes, we need health care financing reform, but we also need to figure out how we are defining 'health.'"