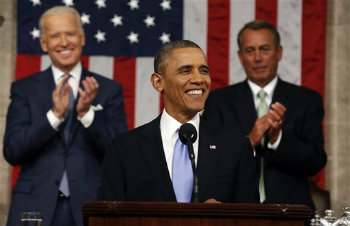 Jan. 29 (Bloomberg) — President Barack Obama opened this year's congressional election season with a State of the Union message centered on economic inequalities, a theme harder to sustain in scattered House and Senate contests.
Mapping out his goals to assist those struggling amid a broader recovery, the president in last night's address called for extending unemployment benefits, an increase in the minimum wage to $10.10 from $7.25, a new retirement savings program, and more affordable college education.
"Corporate profits and stock prices have rarely been higher, and those at the top have never done better," Obama said. "But average wages have barely budged. Inequality has deepened. Upward mobility has stalled. The cold, hard fact is that even in the midst of recovery, too many Americans are working more than ever just to get by –- let alone get ahead. And too many still aren't working at all."
Democrats are echoing such themes on Capitol Hill, yet political strategists say they may not be as potent as they were in 2012 when Obama ran against Mitt Romney, a multimillionaire former private-equity executive caught on videotape suggesting that 47 percent of Americans view themselves as victims dependent on government checks.
"It worked great for the Democrats because Romney was the very profile they were running against,"said Stu Rothenberg, a Democrat and the editor of the Washington-based nonpartisan Rothenberg Political Report.
Midterm voters
Income-equality themes are also stronger in presidential years because a broader swath of the electorate typically participates, while midterm voters tend to be wealthier and more Republican.
In the 2010 midterms, 64 percent of voters nationally had incomes of $50,000 or more, compared with 59 percent in the 2012 presidential election, according to exit polls. Those surveys also show 42 percent of 2010 voters described themselves as "conservative," significantly higher than the 35 percent who said that in 2012.
Republicans are also sticking with a once-winning message: attacking the Affordable Care Act as too expensive and unworkable. Public concerns about the health-care law helped them retake control of the House in 2010.
This year, the U.S. Senate is the prize. Republicans need a net gain of six seats to win control of that chamber. The results will shape the final two years of Obama's presidency and determine how much resistance he'll encounter from Congress.
Republicans beware
Mike Murphy, a Republican consultant who has advised several presidential campaigns, said his party can't ignore the potential power of Obama's message and simply propose tax cuts as their sole idea for economic opportunity.
"We should take the president's campaign offense seriously," he said. "Our connection to voters on economics has been slipping, and we have to address that."
Obama told Americans they essentially have a choice between a nation where all have a chance to improve their lot in life and one where prosperity is achieved by just a few.
With national unemployment at 6.7 percent — down 1.1 percentage points since Obama took office in January 2009 — the economy remains the top issue for most voters and Democrats see economic fairness as a winning message.
"Opportunity is who we are," Obama said. "And the defining project of our generation must be to restore that promise."
In his call for an increase in the minimum wage, Obama pointed to polling that shows support for a boost and sold it as an economic development tool — and a campaign mantra.
Campaign mantra
"This will help families," he said. "It will give businesses customers with more money to spend. It does not involve any new bureaucratic program. So join the rest of the country. Say yes. Give America a raise."
Representative Paul Ryan said Obama's plan would backfire on workers.
"It's bad economics," the Wisconsin Republican said on CNBC today. "What we want is more people to enter into the workforce. We don't want to make it more expensive for employers to be able to hire people."
In all, the president announced a dozen actions that he said would help push against the economic forces that have left lower- and middle-income Americans suffering from the worst recession in more than seven decades. He also said he's enlisting companies, including Apple Inc. and Verizon Communications Inc., to help solve issues from expanding broadband in schools to hiring the long-term unemployed.
Republican opposition
Obama appealed for cooperation from the divided Congress on other priorities, including immigration, corporate taxes, trade, transportation and an expansion of the earned income tax credit to aid the working poor.
The president's message is designed to shore up his support among Democrats rather than winning over the independent voters who decide most elections, said Whit Ayres, a Virginia-based Republican polling consultant.
"It is totally a Democrat base play," he said. "They are going back to a timeless class-warfare play to try to distract people from Obamacare."
Democratic polling expert Geoff Garin, who worked for Hillary Clinton's presidential campaign in 2008, countered that Obama's message will be a strong one because Americans increasingly think it's hard to stay in the middle class and even harder to get there.
Unequal opportunities
"Mitt was a soft target and the reality is that those don't come along every day, but the Republican brand is still deeply identified with favoritism with those at the top and corporate interests," he said. "Democrats are much more identified as the party of the middle class. The pump is pretty well primed for voters to think that Republicans will be on the wrong side of these issues."
Respondents in a Bloomberg National Poll last month said by a margin of 64 percent to 33 percent that the U.S. no longer offers everyone an equal chance to get ahead.
With stock portfolios recovering — the Standard & Poor's 500 Index has more than doubled since Obama took office — the wealthy have shaken off much of the recession.
The top 10 percent of earners — those with household income above $114,000 — collected more than half the nation's total income in 2012, according to a research paper published last year by University of California, Berkeley economist Emmanuel Saez. That's the largest proportion since the government started gathering such data in 1917.
Slow growth
The study also found that those with the top 1 percent of incomes saw their earnings grow 31.4 percent from 2009, when the recession ended, to 2012. The bottom 99 percent saw growth of just 0.4 percent.
Vin Weber, a former Republican House member from Minnesota who is now managing partner at Mercury Public Affairs, a Washington-based government relations consulting firm, said he sees at least a small opening for bipartisan compromises in 2014 on such things as education and job training.
"There is unhappiness with the economy and Obamacare, and that gives a lot of advantages to the Republicans," he said. "Yet if Republicans want to maximize their opportunity in 2014 and be competitive in 2016, they need to spend some time on a positive agenda."
Ron Kaufman, a senior adviser to Romney's 2012 presidential campaign, said Republicans need to improve their message on economic opportunity to compete with Democrats.
"We have to do a better job of saying the best thing we can do for people is to grow the pie," said Kaufman, a member of the Republican National Committee from Massachusetts. "What Democrats want to do is make the pie smaller and the pieces bigger."