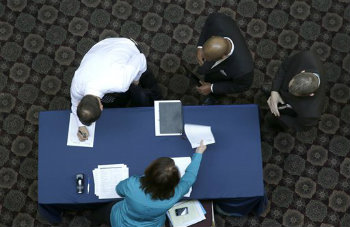 Jan. 30 (Bloomberg) — Applications for unemployment benefits in the United States rose more than forecast last week to the highest level in more than a month, partly reversing a post- holiday slump.
Jobless claims climbed by 19,000 to 348,000 in the period ended Jan. 25, which included the Martin Luther King holiday, Labor Department data showed today in Washington. The reading was the highest since mid-December. The median forecast of 55 economists surveyed by Bloomberg projected 330,000.
Claims are sometimes difficult to seasonally adjust during holiday weeks, although a Labor Department spokesman said there was nothing unusual in the data. Federal Reserve policy makers said yesterday that while labor market data since the end of last year have been "mixed," there are signs of improvement.
" Weekly layoffs have been low over the past month," Ryan Wang, an economist at HSBC Securities USA Inc. in New York, said before the report. "Consumers are gradually becoming less pessimistic about the labor market."
Another report today showed the world's largest economy expanded at a 3.2 percent annualized rate in the fourth quarter of 2013, matching the median forecast of economists surveyed by Bloomberg, according to data from the Commerce Department. The gain followed a 4.1 percent advance in the prior quarter to cap the strongest six months of growth in almost two years.
Shares climb
Stock-index futures held earlier gains after the reports. The contract on the Standard & Poor's 500 Index maturing in March rose 0.3 percent to 1,776.5 at 8:34 a.m. in New York.
Estimates in the Bloomberg survey of economists for jobless claims ranged from 310,000 to 345,000. The Labor Department revised the prior week up to 329,000 from a previously reported 326,000. Claims were estimated for one state, Louisiana, last week, Labor also said.
The four-week average of claims, a less-volatile measure than the weekly figure, increased to 333,000 from 332,250 in the prior week.
The number of people continuing to receive jobless benefits fell by 16,000 to 2.99 million in the week ended Jan. 18.
Emergency benefits expired for the unemployed after Congress allowed the program to lapse at the end of 2013. The extended benefits were last doled out in the week ended Dec. 28. The Senate on Jan. 14 failed to advance a Democratic plan to restore those benefits. Senate Democrats are close to gaining enough Republican votes to pass a three-month extension, Senate Majority Leader Harry Reid said yesterday.
Restoring benefits
"Congress needs to restore the unemployment insurance you just let expire for 1.6 million people," President Barack Obama said in his State of the Union address this week.
The federal program started in 2008 and at one point provided a total of as many as 99 weeks of benefits, including 26 weeks of standard state-funded benefits. At the end of 2013 the maximum was 73 weeks.
The unemployment rate among people eligible for benefits held at 2.3 percent in the week of Jan. 18, where its been since early January, today's report also showed.
Forty-nine states and territories reported a decrease in claims, while four reported an increase. These data are reported with a one-week lag.
Initial jobless claims reflect weekly firings and typically wane before job growth can accelerate. Employers added fewer workers than expected in December, increasing payrolls by 74,000 for the smallest gain since January 2011 and less than the most pessimistic projection in a Bloomberg survey.
Payroll forecast
At the same time, payrolls will rise by about 200,000 per month in 2014, based on the median estimate among economists surveyed by Bloomberg Jan. 10-15.
Companies including AT&T Inc., the second-largest U.S. wireless carrier, are banking on an improving job market to bolster consumers and businesses and help growth.
"Unemployment is slowly improving, but labor force participation is the lowest it's been in more than 30 years," Chief Financial Officer John J. Stephens said in a Jan. 28 earnings call. "It's still a slow market, but we are hopeful that we will see an improving economy."
The Federal Reserve said yesterday that it will taper its monthly bond buying program to $65 billion.
"Labor market indicators were mixed but on balance showed further improvement," the Federal Open Market Committee said in a statement following a two-day meeting in Washington that was the last for Chairman Ben S. Bernanke. He will be succeeded by Vice Chairman Janet Yellen on Feb. 1.
With assistance from Kristy Scheuble in Washington.