The 2014 Benefits Selling Expo marked a big milestone: We celebrated our 10th show. And there was plenty to celebrate.
The expo, held April 1-3 in Colorado Springs, Colo., followed the March 31 deadline of open enrollment in PPACA plans. Keynote speakers Mike Huckabee, a onetime GOP frontrunner for president; Robert Gibbs, former White House press secretary and Obama advisor; and Tom Tancredo, a former Colorado congressman, explained the implications of PPACA — the good, bad and the ugly.
And at the show, Ed Oravetz, president and senior benefits consultant at Visicor in Friendswood, Texas, was named Benefits Selling's 2014 Broker of the Year.
Dozens of breakout sessions described the failures, the fixes and the future facing the industry.
Here's a recap of the big items from the Benefits Selling Expo you may have missed.
Huckabee calls PPACA the 'wrong approach'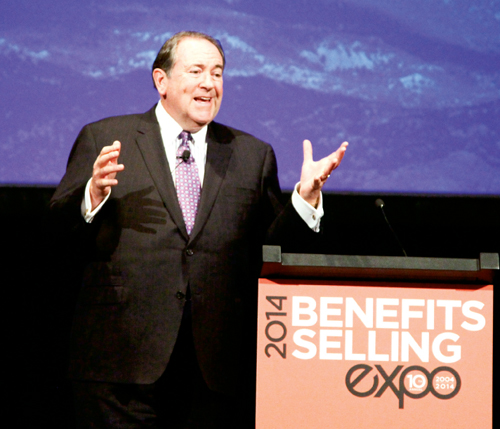 "Ifelt from the very beginning that Obamacare was the wrong approach — not because I'm a Republican but because I was a governor for 10.5 years."
Mike Huckabee believes that some of the ideals of Obamacare—such as getting the uninsured insured—are noble.
But, unfortunately, the law is lacking,he says, in one particularly important concept: common sense.
"The reason Obamacare was never designed to work is because it was (written) by people who have not a clue as to what they were doing to the industry and health care in this country," Huckabee said in the opening keynote speech April 1 at the 2014 Benefits Selling Expo.
Common sense isn't reflected in the 37 changes the administration has made to the Patient Protection and Affordable Care Act since it passed. Common sense isn't having premiums soar for those who can't afford it. Common sense doesn't involve passing a health care law that doesn't have the support of doctors. And common sense isn't having the federal government be in control of something it knows nothing about.
"I felt from the very beginning that Obamacare was the wrong approach—not because I'm a Republican but because I was a governor for 10.5 years," he said.
The former Arkansas governor and current Fox News host believes government works best on a state level—especially in insurance, where states set up the insurance commissioner, the insurance commission and, of course, understand the regulatory environment for insurance.
Huckabee said he particularly feels for Americans who struggle with chronic health issues and, as a result, a constant flood of too-high health bills.
"We could have done things about the chronically uninsured and we should have," he said. "People are in a world of hurt, through no fault of their own, faced with extraordinarily medical expenses—most of us would accept we have a collective opportunity (to help). In a country like ours, what makes us unique is we don't mind helping neighbors."
What he thinks should be done to help that group is to put them in their own special subsidized group. The market should be split into a normal risk pool and an extraordinary-risk pool, he said. Those paying "extraordinary" bills would be helped because of the subsidies, and the normal risk people would be helped because they aren't stuck paying for other consumers' high premiums.
Though there is the responsibility to help, he stressed that no one should get insurance, or benefits, for free.
"The biggest mistake is when you give people benefits for which they have no investment in whatsoever," Huckabee said to an applauding audience. "You have to apply common sense."
Another part of the law that lacks common sense is to try to get young adults enrolled in insurance, but then tell them they can stay on their parents' plan until they are 26. That, he said, "knocks the legs from a big part of the market."
There also is the continued problem that young people struggle with rationalizing buying insurance, often believing they are too healthy or young or would simply rather spend their money on something else.
And little — or no — doctor support isn't helping the cause, either. After talking to roughly 200 family doctors over the years about PPACA, Huckabee anticipates in five years "your basic family physicians will either be in concierge medicine or 'God help you medicine.'"
Without changes to the law, Huckabee said PPACA is an "unsustainable animal that will eat us alive."
But he's still optimistic that things can change for the better. For example, he said, "Republicans have put a lot of ideas out there but the problem is they are just not under one umbrella." Once they work together to submit ideas, they could make more headway.
Huckabee told brokers in the audience that he sympathizes with them for being in a "difficult position" because of PPACA.
But, at the same time, they have a unique business opportunity, he said.
"You may be in a different position than doctors, hospitals and others who are taking a direct frontal hit from Obamacare," Huckabee said. "You'll have to market creatively and differently but I'd like to think in many ways you are in a unique opportunity moment. You may have some of the best opportunities to know what (products) consumers need and want as opposed to what the government thinks they want and makes them pay for."
Tancredo fears 'single payer'
To
m Tancredo believes the Patient Protection and Affordable Care Act will take the nation down the wrong path.
So far down, he predicted, that the law will result in a disastrous single payer health care system. And the former Colorado congressman, a right-wing firebrand, thinks it's no accident.
"Obamacare is designed to fail. It cannot possibly work. Premiums will go up dramatically for obvious reasons. It's designed to fail to bring about a single payer and bring about a socialized health care system. It is worrisome, to say the least."
"Obamacare is designed to fail. It cannot possibly work. Premiums will go up dramatically for obvious reasons," he said at a keynote address April 2. "It's designed to fail to bring about a single payer and bring about a socialized health care system. It is worrisome, to say the least."
Tancredo—a Republican running for Colorado governor this fall — said the momentum will then work against insurance companies — "the bogeyman," the bad guys who are sending the huge bills to consumers. So they will be eliminated in the single-payer system, he predicted.
That's despite the fact that a "huge part of the insurance industry" went along with PPACA at first. That wasn't surprising, he said, based on the promise that the law would bring them 46 million new customers.
But the industry has caught on to the issues surrounding the law, he said, and it shouldn't merely stand by.
"It's very scary stuff. And as individuals and as an industry we shouldn't be trapped into going along with this," Tancredo said. "It's a suicide pact for the industry and for America."
Tancredo also railed against PPACA sign-up numbers released by the administration the previous day.
"It's no surprise to me (the administration) gave us the numbers on April 1," he said.
The 7 million sign-ups aren't impressive when you consider that there are 46 million uninsured, he said. Plus, Tancredo said, those who signed up weren't all uninsured, and it's still unclear who signed up, as far as risk pools, age groups, Medicaid numbers and so on.
Tancredo said President Obama was clear about his intentions with his flawed health care plan when he said, "I intend to fundamentally transform America."
"The president has articulated his desires. No one paid attention," he said. "We should have."
"The America he wants to transform is the America I happen to love," he continued.
The big issue, Tancredo said, is that as a country we can't trust big government to handle important domestic policy issues, such as health care.
"I don't know anybody who still thinks the government can overtake anything of significance in terms of domestic policy and do it correctly," he said. "Every time you give them another set of responsibilities you surrender a certain set of freedom. Health care is a perfect example."
During his hour-long session, Tancredo also focused on immigration, his signature issue.
A staunch and vocal opponent of illegal immigration, he said politicians—his own party included—has not done nearly enough to combat the issue.
"We are amiss not to secure our borders, amiss not to enforce the law," Tancredo said. "It's a slap in the face to everybody who had done it the right way."
"It's been an interesting, fascinating time in politics for me," he said. "I've been at odds with my party more than I have been in sync with them."
Gibbs predicts employer mandate will be killed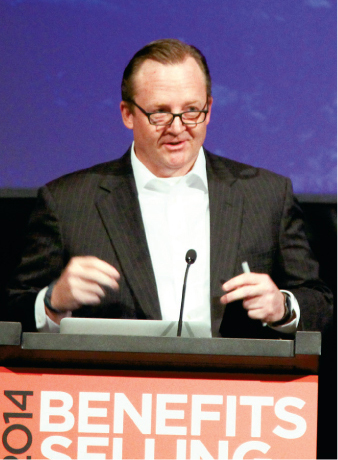 A former longtime advisor to President Barack Obama predicted that the employer mandate — a key piece of Obamacare — will not survive.
It was among several predictions Robert Gibbs, former White House press secretary, had for the future of the Patient Protection and Affordable Care Act in his speech.
"I don't think the employer mandate will go into effect. It's a small part of the law. I think it will be one of the first things to go."
"I don't think the employer mandate will go into effect. It's a small part of the law. I think it will be one of the first things to go," he said to a notably surprised audience.
The employer mandate has been delayed twice, he noted. The vast majority of employers with 100 or more employees offer health insurance, and there aren't many employers who fall into the mandate window, he said.
Killing the employer mandate would be one way to improve the law — and there are a handful of other "common sense" improvements needed as well, he said.
Others include better outreach ahead of next year's enrollment — educating people about the law's deadlines, penalties and subsidies; improved technology; and greater incentives, besides not having to pay a low penalty, to young people so they will enroll in health coverage.
And, most importantly, Gibbs said "health care has to add an additional layer of coverage cheaper than the plans already offered."
In his hour-long speech — which included questions and answers — Gibbs admitted to questioning whether the individual mandate as part of the law was the way to go; being embarrassed and critical over the "truly horrible" exchange rollout last fall; and cringing when former Speaker of the House Nancy Pelosi infamously quipped "we have to pass the bill to find out what's in it."
Despite the tough road for PPACA, Gibbs remained adamant health reform "had to be done" and needs to forge ahead.
"The president had what I thought was several off-ramps or exits … to move on (with the law.) But he never wavered in what he wanted to do. That's because of one simple reason: He felt we had no other choice but to act."
Because of the law, he said more people are covered than ever before, new community health centers are helping underserved areas, and adults face less fear over being rejected for coverage because of the pre-existing conditions.
As a country, Gibbs said, "we've talked about reform for a long time — and abandoned health reform along the way."
With PPACA — as well as other innovations and strides in treatment — the country will get closer to more meaningful care.
"Status quo isn't worth going back to," he said. "The better path forward is the path to better care."
Despite the hardships of getting Americans on board with the law, he said the public was largely coming around. Poll numbers have shown that despite opposition to the law, the majority of Americans don't want PPACA repealed. Instead, they prefer improving the law.
And Gibbs is all for it.
"We need to have an honest discussion about improving and tweaking the law," he said.
After all, the law, he reminded the audience, is still in its very beginning stages, "in the first inning" of the game.
"Change hasn't been easy and it won't be easy," Gibbs said. "It will be a long time before we know how this will play out. But the law has real potential to work."