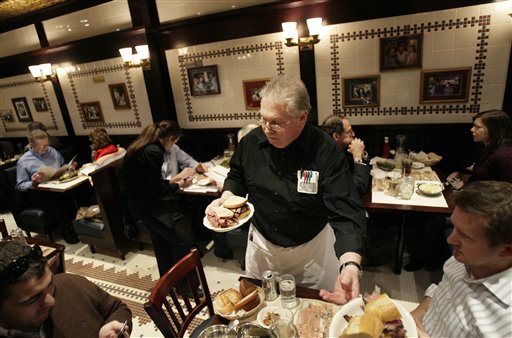 May 9 (Bloomberg) — Employers in the U.S. posted fewer job openings in March, showing the surge is hiring last month will be difficult to sustain.
The number of positions waiting to be filled fell by 111,000 to 4.01 million in March from a revised 4.13 million the prior month, the Labor Department reported today in Washington. Openings had surged by 251,000 in February, the biggest jump in a year.
The data probably mean the 288,000 payroll increase in April represented pent-up demand after an unusually harsh winter, indicating employment gains are likely to moderate. Today's report contains four of nine measures monitored by Federal Reserve Chair Janet Yellen to help inform monetary-policy discussions.
"I think it's still a matter of people only hiring when they need to and absolutely have to," Joshua Shapiro, chief U.S. economist at Maria Fiorini Ramirez Inc. in New York, said before the report. "But as growth recovers here after a tough winter, there will be more people that need to hire."
The median forecast in a Bloomberg survey projected there would be 4.13 million openings in March after a previously reported 4.17 million a month earlier.
The Job Openings and Labor Turnover Survey, or JOLTS, adds context to monthly payrolls figures by measuring dynamics such as resignations, help-wanted ads and the pace of hiring. Although it lags the Labor Department's other jobs data by a month, Yellen follows the report as a measure of labor-market tightness and worker confidence.
April Payrolls
Employers added 288,000 jobs in April for the biggest upside surprise since February 2012 and following a 203,000 increase the prior month, the Labor Department data showed last week. Unemployment dropped to 6.3 percent, the lowest level since September 2008.
Last year, the U.S. added about 194,000 jobs each month, compared with 186,000 in 2012. Economists surveyed by Bloomberg on May 2-7 project payroll gains this year will reach a 205,000 monthly pace.
In speeches and testimony, Yellen has said openings, quits, hiring and firings are among the measures she tracks to determine the health of the job market — all of which are part of today's report.
The number of openings in February was just short of an almost six-year high reached in November.
Quitting Jobs
Some 2.48 million people quit their jobs in March, little changed from a month earlier, today's report showed. The quits rate was unchanged at 1.8 percent in March from the prior month. It was 2 percent when the recession started at the end of 2007.
The number of people hired in March eased to 4.63 million from a five-month high of 4.7 million in February.
About 1.57 million were dismissed from their jobs in March, the fewest since November and down from 1.6 million the prior month. The discharge rate declined to 1.1 percent, matching the November and October readings as the lowest since records began in 2000.
Payroll growth and layoffs are the only two indicators on Yellen's labor-market dashboard that have returned to their averages seen in the four years leading to the last recession, leaving the central bankers room to keep rates low even as they trim monthly increases in their unprecedented balance sheet.
"While conditions in the labor market have improved appreciably, they are still far from satisfactory," Yellen said in Congressional testimony before the Joint Economic Committee earlier this week. "In light of the considerable degree of slack that remains in labor markets and the continuation of inflation below the Committee's 2 percent objective, a high degree of monetary accommodation remains warranted."
Longer-Term Joblessness
The share of jobless Americans who have been out of work for six months or longer stands out as a blemish on the labor- market scorecard. That portion of the unemployed is at 35.3 percent, close to a record high reached during the last economic downturn and almost twice the 2004-2007 average of 19.1 percent.
"We've never really seen a situation where long-term unemployment is so large a fraction of total unemployment," Yellen told Congress earlier this week. "But I have very little doubt that if growth in the economy picks up and continues at an above-trend pace, that long-term unemployment will come down, too."
Retailers, construction companies, manufacturers and government agencies were among the employers with fewer job openings in March, today's report showed. Industries looking for more help included hotels and restaurants and professional and business services.
Finding Work
Antonio Silva, 31, is a recent labor-market success story, having found employment in the technology industry. Silva is finishing his master's degrees in business administration at the University of California at Berkeley this month and accepted a job with Square, Inc., the mobile card-reading start-up company based in San Francisco.
"The economy is really good here," said Silva, who at the time of Square's offer in April was pursuing opportunities with about five other companies. "If the American Dream still exists, it's here."
Today's report showed about 2.6 unemployed people were vying for every opening in March, up from about 1.8 when the last recession began in December 2007.
In the year that ended in March, employers added a net 2.2 million jobs, representing 54.7 million hires and 52.5 million separations.