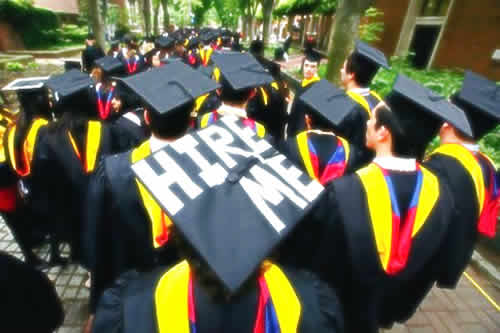 Many soon-to-graduate college students expecting on-the-job training are likely to be disappointed.
While 80 percent of them expect their employers to provide them with a formal training program, 52 percent of those who graduated from college within the past two years say they did not receive training in their first job.
That was the big takeaway from a survey by Accenture that examined workplace expectations of upcoming 2014 grads and the workplace realities as reported by graduates minted in 2012 and 2013. The consulting firm interviewed more than 2,000 people for its survey.
Not surprisingly, many new grads feel this trend in training hurts their chances to succeed in the corporate jungle. On the upside, those who had solid internships prior to graduating reported a high rate of turning the internship into a job — perhaps because it gave them insights into how the company functioned that earlier generations might have received through formal training programs.
"Internships remain a good opportunity for graduates to advance to a paying job; of the 69 percent of 2012 and 2013 graduates who participated in an internship while still in school, more than one-third (36 percent) said the internship led to a job," Accenture said.
Its survey looked at how well colleges were preparing their students for the job market, and found that most higher-education institutions are doing a pretty good job of it, if not better than in the recent past. Accenture found that students who came into the job market and were forced to accept work outside their field of college focus, they generally blamed themselves for choosing the wrong major.
The big disconnect, however, came in company training programs, prompting Accenture to offer a warning and what might sound like common-sense advice.
"Although (the survey showed) recent college graduates may feel ready to work, they may not be prepared for the precise roles being offered," said Accenture's Katherine Lavelle. "That is where employers should assume responsibility for further talent development. This generation of graduates expects people to pay attention to them and give them the skills they need. The top students will look for talent development programs and see it as a differentiator."
Accenture expressed concern that, because it's often the top grads who expect to be treated in this manner on their first job, companies risk losing that talent if they don't actively attempt to develop the skills and knowledge of these new hires.
"Graduates are leaving college expecting to receive corporate training, but despite the skills shortage, there is still no material movement by organizations to help close the gap," said Accenture's David Smith. "The building of a strong and sustainable talent supply chain is dependent on better preparing and developing our entry-level employees and, without greater investment in talent development, companies will continue to find themselves with a workforce lacking in the right skills."
The research drew out more data that supports Accenture's concerns about talent development and retention. Of those 2012 and 2013 grads, 46 percent consider themselves underemployed today. In the year-earlier survey that queried 2011/2012 grads, 41 percent reported that they felt they were underemployed.
The 2014 crowd is more optimistic about job prospects than their cap-and-gown predecessors. More than eight of 10 said they expect to find a job upon graduation in the field they majored in, yet just two-thirds of the 2012/2013 grads were able to do that. Nearly seven in 10 "expect to find a job within six months of graduation, but only 42 percent of the 2012 and 2013 graduates said they did so," the survey reported.
On the other hand, maybe this crop is better prepared. The study said "75 percent of those graduating this year took into account the availability of jobs in their field before deciding their major, compared to 68 percent of graduates from 2012 and 2013."
Other key findings include:
11 percent of students graduating in 2014 had already secured a job at the time of this year's research, compared to 16 percent of last year's graduating class;
46 percent of the 2012 and 2013 graduates surveyed this year are currently employed full time, down from 68 percent of 2011/2012 graduates responding last year;
Of the 13 percent of 2012/2013 grads who have been unemployed since graduation, 41 percent believe their job prospects would have been enhanced had they chosen a different major, and 72 percent expect to go back to school within the next five years;
27 percent of the 2012/2013 grads are working part-time, compared to 16 percent of last year's respondents;
74 percent of pending 2014 grads said they would be willing to relocate to another state to find a job, but only 21 percent of 2012 and 2013 graduates surveyed said they actually did so;
18 percent of this year's graduates expect to earn $25,000 a year or less. Reality check: 41 percent of employed 2012 and 2013 graduates have a salary within that range;
33 percent of this year's graduates said they would be uncompromising when it came to salary expectations for their first gig, compared to 43 percent of those who were about to graduate in 2013.