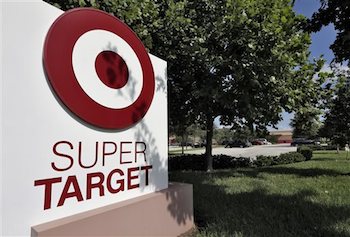 May 21 (Bloomberg) — Target Corp., struggling to rebound from last year's hacker attack and a botched Canadian expansion, posted first-quarter profit that missed analysts' estimates and cut its annual forecast.
Net income fell 16 percent to $418 million, or 66 cents a share, from $498 million, or 77 cents, a year earlier, the company said today in a statement. Analysts had projected 71 cents on average, according to data compiled by Bloomberg. Still, same-store sales didn't decline as much as predicted, signaling to investors that a comeback may be under way. The stock rose less than 1 percent today in New York trading.
Target is trying to regain its footing as it searches for a new chief executive officer, revamps its Canadian division and copes with the theft of 40 million payment-card numbers by hackers. The second-largest U.S. discount retailer appointed John Mulligan as interim CEO earlier this month and yesterday named Mark Schindele as the new top executive for Canada.
"It's too early to start playing the recovery theme of Target," Paul Trussell, an analyst for Deutsche Bank AG, said in a research note this week. "While the management change is a positive long-term, in our view, we still see more pain before gain."
Sales rose 2.1 percent to about $17 billion last quarter, which ended May 3, in line with estimates. While U.S. same-store sales dropped 0.3 percent, that was better than the 1.1 percent decline analysts had projected.
Better sales
Shares of Minneapolis-based Target climbed 0.2 percent to $56.74 at 10:16 a.m. in New York. They had fallen 11 percent this year through yesterday, when they closed at $56.61 in New York. That compares with a 3.8 percent drop for Wal-Mart Stores Inc., its larger rival, and a 1.3 percent increase for the Standard & Poor's 500 Index.
"Sales were better than everyone thought," said Brian Yarbrough, an analyst at Edward Jones & Co. in St. Louis. Still, the company probably had to use promotions and discounts to hit those numbers, harming profit margins, he said.
Target cut its annual earnings forecast to $3.60 to $3.90 a share, down from a previous range of as much as $4.15. It projected adjusted earnings of 85 cents to $1 a share for the second quarter, compared with an average estimate of about $1.03.
'Small progress'
"We are not where we need to be," Mulligan said on a conference call. "The progress is great to see, but it's small progress."
Mulligan took over temporarily as CEO this month after the board ousted Gregg Steinhafel, who had been in the job since 2008. Steinhafel held himself personally responsible for the security attack, which compromised 40 million credit- and debit- card numbers — along with 70 million addresses, phone numbers and other pieces of information — during the holiday shopping season. Recovery efforts generated $26 million in expenses last quarter, with $8 million of those costs getting covered by insurance.
As Target works on its comeback, the company is holding off on stock buybacks. It said today that it probably wouldn't initiate any repurchases before the second half of the year.
Target said yesterday that Tony Fisher, its top executive in Canada, will step down immediately and be replaced by Schindele, a senior vice president in charge of merchandising operations. Schindele, a 15-year Target veteran, helped roll out new store formats for the chain, including PFresh, CityTarget and Target Express.
Red ink
Target's Canadian business lost $211 million before interest and taxes last quarter, a wider deficit than the $205 million it posted a year earlier. In the last fiscal year, the division lost $941 million before interest and taxes, reducing the year's profit by $1.13 a share. Canadians, who for years had shopped at Target just over the border in the U.S., have been disappointed that prices at the new stores are higher. Local competitors also cut their prices to make Target's entry more difficult.
Target also continues to lose market share to Amazon.com Inc., Trussell said.
The retailer "is playing catch-up with its e-commerce assortment and fulfillment efforts, has gone nowhere with small stores, and the Canada segment remains a work in progress," he said.