The nation's public pension funds have put their long-term sustainability at risk by aggressively pursuing better returns in equities and alternatives rather than fixed-income investments, according to a report from the Pew Charitable Trusts and the Laura and John Arnold Foundation.
While their shift to riskier assets has produced strong returns, Pew said these funds also now face higher fees and exposure to much greater levels of volatility.
All of this, it said, underscores the need for greater transparency on plan performance, renewed standards for best practices, and further scrutiny of fees and their affect on plan health.
The report comes at a time when many public pensions remain under-funded.
As the report noted, state and local public workers as of 2012 had earned more than $4 trillion in expected benefit payouts, while their plans had approximately $3 trillion in assets to make those payouts — leaving a gap of more than $1 trillion between the two. That gap has since narrowed but few funds are 100-percent funded.
Also see: GASB pushes for better disclosure of public retiree benefits
The shift by pension funds in investment strategy is, of course, nothing new. In the early 1950s, public pensions were almost wholly invested in cash and fixed-income. By 1992, equities accounted for nearly 50 percent of their allocations; by 2012, equities and alternatives accounted for nearly 75 percent.
Decline in yields on U.S. Treasury Bonds fueled much of the trend. In 1992, the median assumed rate of return on public plans was 8 percent, compared to a 7.7 percent average yield on 30-year Treasuries.
In 2012, the expected median return was about 7.8 percent, while 30-year Treasuries yielded less than 3 percent.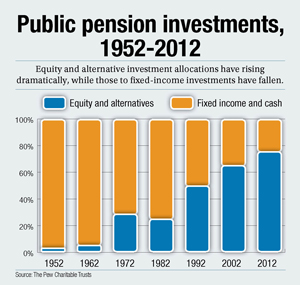 Investments in alternatives such as hedge funds, private equity, real estate and commodities more than doubled between 2006 and 2012, from 11 percent to 23 percent. Most of that money was shifted from equity allocations (61 percent in 2006, 50 percent in 2012).
The shift to alternatives, along with the increasing dependence on equities over the decades, has paid off of late: the largest funds posted a median return of 12 percent in 2013.
However, public funds gave a lot back during the market downturns of 2000-2002 and 2008. Funding levels declined from more than 100 percent in 2000, to 85 percent in 2006, and ultimately to 72 percent in 2012, before rising again more recently.
There's a downside to a rising market, too, Pew said. The assumption of higher returns can "rationalize" lower contribution rates by governments.
Also, the growing prevalence of alternative investments between 2006 and 2012 resulted in a spike in investment fees, it said.
Also see: Pension funding gap widens
Fees increased for over 70 percent of the funds surveyed by Pew, with an average increase of 30 percent. Public funds reported paying an average of .37 percent in fees in 2012, up from .28 percent in 2006, a difference that resulted in annual increases in costs of more than $2 billion with the largest funds.
Pew also said that some alternative management fees are not definitively identified in some plans' financial reporting, making the cost to those plans higher than publicly accounted for.
In its conclusion, Pew called for "greater vigilance on the part of government officials and board members to help safeguard the plans' long-term sustainability."
"Elected officials … can work with pension plan administrators to ensure that investment decisions are based on a thorough understanding of risk and cost," it said. "Government sponsors can demand better reporting of future expected costs and the associated downside risks, and then use this information to make decisions about ways to deal with poor outcomes, should they occur."