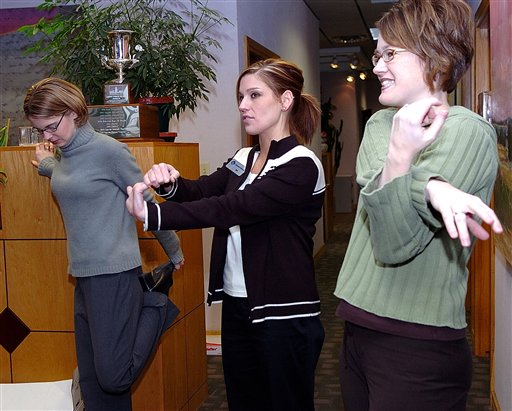 Ask workers if they believe their employer cares about their health, and two-thirds will say, "yes," according to a Harris poll. But ask them what that caring amounts to, and the majority can't point to many actual examples.
"Employees often lack resources that can actually improve their health, such as weight management programs, exercise classes, company-run health/wellness programs, on-site fitness equipment, health coaches or healthy food options," the pollsters said.
See also: Employers missing opportunity with PPACA wellness incentives
The survey was done on behalf of Provant, a population health management company. Nearly 1,000 full or part-time workers' responses were included in the results.
The survey offered respondents a menu of employer sponsored options to benefit employee health, and asked if their employer made them available. Here's the breakdown of the top options:
Company run health/wellness programs: 22 percent;
Health food options: 21 percent;
Able to go for a walk to relieve stress: 20 percent;
On-site fitness equipment: 20 percent;
Health advocacy programs: 17 percent;
Weight management programs: 17 percent; and
Fitness club reimbursement (full or partial): 13 percent.
Provant said the results showed a clear disconnect between employee expectations and employer follow-through.
"Employees who are healthy are more engaged and more productive," said Provant CEO Heather Provino. "When companies provide workplace wellness programs, workers see that their employers care about them. An additional benefit is that we find employers who link their wellness programs with their business strategies are more successful in achieving their organizational goals."
See also: This is what drives wellness success