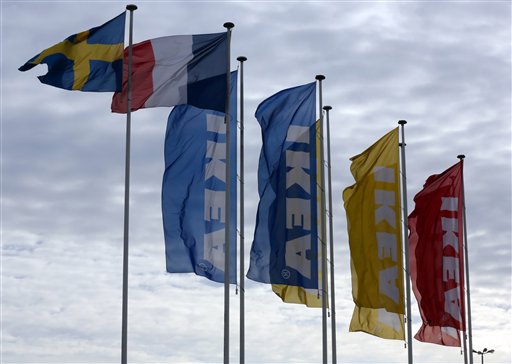 (Bloomberg) — Ikea Group, the world's largest furniture seller, will boost the average minimum hourly wage for workers at its U.S. stores to $10.76 as retailers and fast-food chains face criticism for not paying enough.
See also: Minimum wage increases gain ground
The 17 percent increase begins Jan. 1 and will benefit about half of the Swedish company's U.S. retail workers, according to a statement today. The wage will vary based on the cost of living in Ikea's 38 locations and will be based on the Massachusetts Institute of Technology Living Wage Calculator.
"The transition to the new minimum hourly wage structure is not only the right thing to do, it makes good business sense," Rob Olson, Ikea U.S. acting president and chief financial officer, said in the statement. The move won't result in higher prices, closely-held Ikea said.
The decision may add fodder to a national debate on whether the federal government needs to raise the minimum wage. President Barack Obama wants to increase it to $10.10 an hour from $7.25, saying it will bolster the economy and reduce income inequality. Most Republican lawmakers oppose the idea.
Ikea is not alone in boosting wages. Gap Inc. announced in February that it would raise its hourly pay for U.S. employees to $9 in 2014 and $10 next year. The move at the biggest U.S. apparel-focused retailer will benefit about 65,000 store employees by 2015, Gap said in February. San Francisco-based Gap has seen job applications surge by at least 10 percent from a year earlier at its namesake and Old Navy chains, the company said this week.
In May, protesters descended on McDonald's Corp.'s headquarters in Oak Brook, Illinois, to demonstrate against about the pay issue.
New stores
Ikea's rate is based on the MIT Living Wage calculator's hourly pay for a single person with no children. In New York City, where Ikea has one store in the borough of Brooklyn, the calculator determines a living hourly wage for a single, childless person is $12.75.
The increase, which will also apply to three stores Ikea will open before 2016, won't be introduced in non-retail locations. The company's five distribution centers, two service centers and one manufacturing facility have hourly jobs already paying above the local living wage, Ikea said.
In the last year, the retailer has introduced a loyalty program that makes contributions to a new retirement fund, increased the employer-match contributions it makes to employees' 401(k) plans and rolled out the One Ikea Bonus program for all workers.
See also: