For brokers who think they're not needed in a PPACA-era health care world, listen up, because there's evidence to the contrary.
Not only do consumers say brokers have been helpful in providing information about the law and health plans under it, but brokers are the highest-ranked of all information sources, according to analysis.
The Urban Institute and the Robert Wood Johnson Foundation surveyed consumers about what sources of information they used when researching PPACA health plans on the exchanges. About 84 percent of survey respondents ranked insurance agents and brokers as "very" or "somewhat" helpful, the highest ranked source. Next on the list of most helpful resources were other "forms of assistance involving a person," including navigators, community health workers and the Medicaid agency, at 77 percent.
The lowest-ranked source was call centers, with just 58 percent of respondents saying their time on the phone was very or somewhat helpful.
Nearly 80 percent of consumers surveyed said they relied on the exchange websites when researching PPACA options, but many said they supplemented that research with information from other sources—including, of course, brokers, as well as the media, navigators, family members and friends. Just 65 percent said the websites were helpful.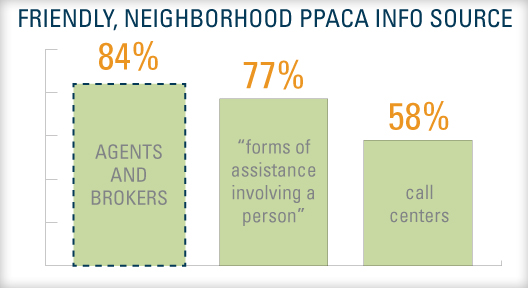 According to the survey, Hispanics were more likely to use some form of direct assistance (40 percent) including call centers, navigators, and brokers and agents, compared to 31 percent of white non-Hispanics. Those aged 50-64 were also twice as likely to use direct assistance as a source of information (43 percent compared to 22 percent of those age 18-34).
Despite the troubled rollout of HealthCare.gov, more than 8 million people enrolled in a health plan through the exchanges.
Reports, including Aflac's WorkForces survey, and anecdotal evidence, suggest brokers remain uneasy about PPACA, their role in the industry with the law in place, and their future because of it. But the new Urban Institute report shows consumers still need a variety of sources to help them choose coverage, most notably, brokers.
"People are using multiple sources of information to choose the plan that is right for them," said Katherine Hempstead, who leads coverage issues at the Robert Wood Johnson Foundation. "Spreading the word about enrolling in insurance coverage is important and challenging, and research into consumer patterns and preferences can help improve the process for the next open enrollment period."