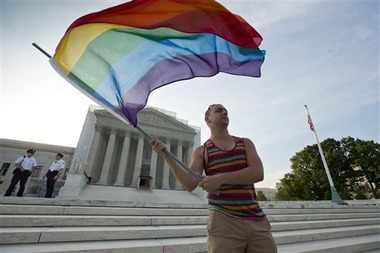 The LGBT community continues to report that its members face greater obstacles in daily life than do non-LGBT adults. A Gallup survey that focused on health insurance once again underscored this social disparity.
Gallup asked nearly 45,000 U.S. adults to describe their health coverage status, including about 1,800 who identified as LGBT. The good news: More LGBT adults reported having health insurance in the second quarter of 2014 (82 percent) than in the third quarter of 2013 (76 percent). But among non-LGBT respondents, 87 percent said they had coverage, compared to 83 percent in Q313.
Gallup cited both the ability to pay for health coverage and access to a primary care physician as possible reasons for the discrepancy.
On affordability, here's what Gallup found: "LGBT adults are significantly more likely to say they did not have enough money for health care needs at least once in the past year. One-quarter of LGBT adults report they did not have enough for money for healthcare needs at least once in the last year, compared with 17 percent of non-LGBT individuals. This disparity is evident for both men and women."
On access: "LGBT adults are more likely than non-LGBT adults to report that they do not have a personal doctor (29 percent vs. 21 percent, respectively). But this difference is driven primarily by LGBT women, who are nearly twice as likely as non-LGBT women to lack a personal doctor."
Read: IRS clarifies same-sex spousal health coverage
Gallup also suggested that more attention needs to be paid to the LGBT by pollsters and others who conduct demographic surveys.
"Population-based data sources that provide insights into the health and well-being of Americans and include the measurement of sexual orientation and gender identity remain rare," Gallup said. "More routine inclusion of these data on demographic, economic, and health-related surveys would improve the ability of researchers to not only document whether LGBT Americans experience negative health and well-being disparities, but why that might be the case. Understanding the "why" is crucial information to assist policymakers and health advocates in the development of policies and programs designed to reduce health and well-being disparities associated with LGBT status."