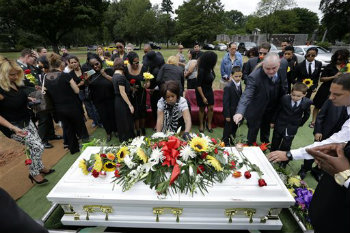 Sept. 17 (Bloomberg) — Americans aren't getting the support and services they need as
death
nears, according to a U.S. report calling for an overhaul to the nation's expensive and inefficient approach to end-of-life care.
Doctors need training to talk with their patients about death well before the end of life, a conversation that rarely happens now. Patients, meanwhile, need to take more responsibility to plan for it, according to the report from the Institute of Medicine, a non-profit arm of the National Academy of Sciences that advises lawmakers.
While most Americans say they want to die at home, few do. The majority don't discuss the topic with doctors or family in advance, the report found.
"Patients can, and should, take control of the quality of their life through their entire life, choosing how they live and how they die," said Philip Pizzo, co-chairman of the committee and a professor of pediatrics, microbiology and immunology at Stanford University. "Doctors should help initiate discussions with their patients about such decisions."
The objective is to integrate standard medical care with social services. Together, the planning and care would ease the difficulty of dying and create a new model of high-quality care that is affordable, the 21-member committee concluded in the report, dubbed "Dying in America."
Few people die suddenly. Rather, they are killed by conditions that worsen over time to kill them. Planning would help them decide if they want to do things like go on a ventilator, or go through another round of chemotherapy, or be resuscitated after their heart stops.
The report laid out a road map for end-of-life planning. Planning should begin early and includes regular conversations tied to lifetime landmarks, such as getting a driver's license, getting married or signing up for Medicare. The conversations will not only help clarify what patients want, it will help their families and health care workers provide care and potentially reduce costs.
"Without adequate advance care planning the default decision is for clinicians to treat a disease or condition, no matter the prognosis," said Dave Walker, co-chairman of the committee and former U.S. comptroller general. "This is far from a patient-centered, family-oriented approach that honors the preferences for care for those near the end of life in an affordable and sustainable manner."