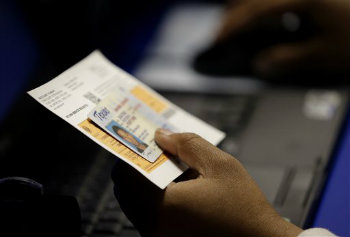 Oct. 29 (Bloomberg Politics) — The midterm-election polls are looking good for Republicans, and among
millennials
the numbers are, you might say, reddening, too. But there's little in the picture that's rosy, and even less that comes across as enthused.
A national poll released this morning by the Institute of Politics at Harvard's John F. Kennedy School of Government, based on interviews with 2,029 Americans between 18 and 29, showed that, although slightly more young people would prefer Congress to be controlled by Democrats than Republicans (50 percent to 43 percent), among those who say they will "definitely be voting" next week (26 percent), the Republicans are favored by a margin of 51 percent to 47 percent. In other words, Democrats have lost ground, but millennials view Republicans with even more disapproval. It's just that, among those feeling empowered to vote, the Republican Party will fare better.
This may have something to do with the president. Sixty percent of millennials say that they don't follow news about national politics closely. All the same, President Obama leaves a bad taste in their mouths: millennials give the chief executive negative marks in his handling of everything from the economy to health care, the federal budget deficit, foreign policy, and race relations (although on this last, the numbers are closer). Seventy-six percent call health care important in determining their vote. Nineteen percent are not enrolled in health insurance. Fifty-seven percent disapprove of the Patient Protection and Affordable Care Act.
Young people are a potently disapproving bunch. They disapprove more strongly of Republican performance in Congress than of Democratic performance (72 percent to 60 percent). Correspondingly, they better trust the Democratic party to steward the economy. But there's little fervor for the process. A full 80 percent of young people who completed the interview—and this among those displaying participant cooperation—would not consider themselves politically active or engaged. (This is the same percentage that holds a Facebook account.)
Maybe this is because only 10 percent believe their Congress members in Washington represent their constituents more strongly than their donors, their party, and themselves. There's a lot that needs to be proved to 18-29-year-old Americans. On the whole, millennials are, as Harvard Institute of Politics Director Maggie Williams put it, "potentially up-for-grabs."
Where 45 percent said they wouldn't call themselves supporters of the Tea Party Movement, 43 percent said they just weren't sure. Only 18 percent said that political engagement is a preferable way to solve important issues facing the United States; 42 percent said they saw community volunteerism as preferable. And yet, when asked whether they would volunteer if a friend who was volunteering on a political campaign that they agreed with called to ask for help, 64 percent would not be likely to agree to volunteer. Even if they had free time.
The Harvard poll showed that race and ethnicity remain a considerable predictor of political beliefs. African-American millennials give Obama a 78 percent approval rating, while young whites approve by only 31—a gap that has heightened considerably since the Institute's 2009 polling. Young whites preferred Republican control over Congress by a 53 to 40 percentage point margin; while blacks wanted Democrats in charge by a percentage point margin of 68 to 23 points. Among Hispanics, the margin is 59 percent Democratic-leaning, and 34 percent Republican—this is down.
On political issues, the split among millennials is close to evenly divided between those who consider themselves liberal (33 percent) and those who call themselves conservative (35 percent), but the numbers change when party affiliation come to mind: 33 percent of young people call themselves Democrat, 22 percent Republican, and Forty two percent lean independent.
This seems to be the current: a Pew poll released this June show that younger voters who vote Democratic are committed to personal and sexual autonomy, but are far less inclined to take the old party line on economic issues. Millennials weren't asked how many would vote Libertarian, but the independent streak has something to do with feeling fed up, and feeling like the two-party option may not always be the best option.
Sixty-six percent of the 18-29-year-olds participating said they were registered to vote, but this doesn't mean they will. When the Harvard Institute of Politics asked those who said were unlikely to cast a vote exactly why, 12 percent said they don't know enough about the candidates, 11 percent said they weren't interested, 8 percent said they weren't registered, 7 percent said they don't trust or like the candidates or politicians in general—another 7 percent said that their vote doesn't make a difference. Twenty three percent declined to answer.