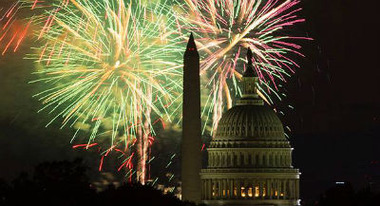 More businesses observe Thanksgiving and Christmas than any other U.S. holiday. But close behind are New Year's Day, Memorial Day and Labor Day, all observed by at least 94 percent of businesses.
That's what a Society for Human Resource Management survey tells us. The only other U.S. holidays to exceed a 50 percent closure level in 2015 will be Independence Day (the Fourth of July hits on a Saturday in 2015) and the day after Thanksgiving, both at 76 percent; and the day before Independence Day (60 percent), a Friday next year.
Christmas Eve doesn't quite make the cut at 47 percent. Other holidays grabbing significant market share:
Martin Luther King Jr.'s birthday, Monday, Jan. 19 (37 percent)
Presidents Day, Monday, Feb. 16 (35 percent)
Good Friday, April 3 (28 percent)
Veterans Day, Wednesday, Nov. 11 (20 percent)
Columbus Day, Monday, Oct. 12 (16 percent)
On average, SHRM found, most U.S. businesses will observe nine paid holidays in 2015. About one in five offers 10 paid holidays to fulltime and part-time workers, and about one in 20 offers 13 or more paid holidays. About a third offer floating holidays, with 43 percent offering one, 29 percent offering two, and 28 percent offering three or more.
Asked about weekend schedules, 64 percent said they were closed, 26 percent were open on Saturday, and 9 percent on Sunday.
The data came from nearly 500 randomly selected human resources managers.