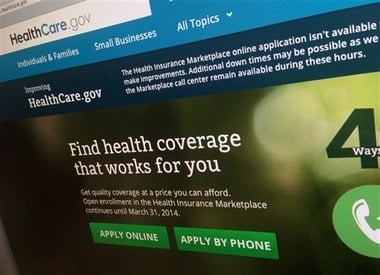 People buying Obamacare plans for 2015 can expect to pay about 3 percent more on average for the cheapest coverage — a small increase by historical standards — though premium changes vary widely by state.
"Bronze"-level insurance, the least expensive full- coverage plans available, will cost at least $307 a month on average for a 50-year-old nonsmoker next year, according to U.S. data released today and analyzed by Avalere Health, a Washington consulting firm. The cheapest "silver" plans, the category most popular with consumers, would cost the same person $381 on average, a 4 percent increase from a year before.
Premiums for insurance sold under the Patient Protection and Affordable Care Act can be substantially discounted by tax credits, and about 85 percent of customers qualified for that assistance this year. While the increases are smaller than in years past, the cost of coverage under the Affordable Care Act is generally higher than plans predating the law that provided fewer benefits and weren't available to sick people.
"The law has been helpful for lower-income individuals but it's been harmful for the middle class," Brian Wright, a health insurance analyst at Stern Agee Group Inc. in New York, said in a phone interview.
In the three years before Obamacare, individual health insurance premiums expanded at a rate of 10 percent a year, according to the Commonwealth Fund, a health-advocacy group.
Shopping starts
The Obama administration released comprehensive data on 2015 premiums in 34 states covered by the federal enrollment system a day before insurance marketplaces created by the health law open to customers. High premiums may deter enrollment in parts of the country with little competition between insurers, although relatively few uninsured people make too much money to qualify for subsidies, researchers say.
"Many consumers will have even more affordable choices for renewing their coverage and signing up for the first time through the health insurance marketplace," Marilyn Tavenner, the administrator for the U.S. Centers for Medicare and Medicaid Services, said in a statement. "Today's data provide further evidence that the Affordable Care Act is working to improve competition and choice among Marketplace plans in 2015."
Financial subsidies in the law benefit low-income people the most. An expansion of Medicaid, the health program for the poor, was designed to cover people earning poverty-level wages, though it has been rejected by Republican lawmakers in almost half of states. Above the poverty line, generous subsidies can reduce premiums for private insurance to as little as 2 percent of annual income.
Can't be everything
The subsidies taper out at four times the poverty level, which is about $95,400 for a family of four this year, or $46,700 for a single person. About 6.2 percent of the remaining U.S. uninsured population has incomes above that level, according to a June study by the Urban Institute in Washington.
"The Affordable Care Act was never going to be able to do everything for everybody," Ron Pollack, the executive director of Families USA, a consumer advocacy group in Washington that backs the law, said in a phone interview. "Priorities had to be made. There will clearly be people who fall through the cracks and who need help and are not receiving it."
People for whom insurance would cost more than 8 percent of their income are exempt from the law's requirement they carry coverage, an out that is helpful in states such as Alaska, which has the highest premiums in the country and, at 28 percent, the biggest increases for 2015.
Wide variation
Rates differ greatly by state, affected by details including the number of insurers competing in exchanges and the underlying cost of doctors, hospitals and other health-care services. The lowest premiums are in Oklahoma, where a bronze plan will cost a 50-year-old as little as $213 a month next year. That's 11 percent more than in 2014, one of the largest increases in the country.
"The bottom line is that exchange enrollees' 2015 premiums will vary widely based on geography," Elizabeth Carpenter, a director at Avalere Health, said in a statement. "Consumers should be wary of reports detailing national or statewide premium changes and should instead focus on the details of their particular plan."
People already enrolled in Affordable Care Act plans will have them automatically renewed if they don't shop for new coverage before Dec. 15. Doing nothing may be a bad idea, as consumers' out-of-pocket costs can rise in two ways: their premiums can increase, and their subsidies can fall, since they're pegged to the range of prices available.
'Vast majority'
The Obama administration has encouraged people to shop around instead of letting themselves be automatically renewed.
"Every year insurance companies make changes to premiums, cost-sharing and benefits, and with more choices available, the vast majority of consumers will be able to find a more affordable option," the Medicare and Medicaid agency said in a statement.
The largest premium decreases for 2015 are in Mississippi and New Hampshire. In Mississippi, the cheapest bronze plan can be had for 19 percent less than this year, or $314 for a 50- year-old. In the Granite State, the price of the cheapest silver plan fell by 18 percent, to $332 for a 50-year-old.
People older than 50 will pay more for insurance, and younger people pay less. For example, a bronze plan in Alaska that would cost a 50-year-old $553 a month would cost $325 for a 27-year-old, according to data analyzed by Bloomberg.