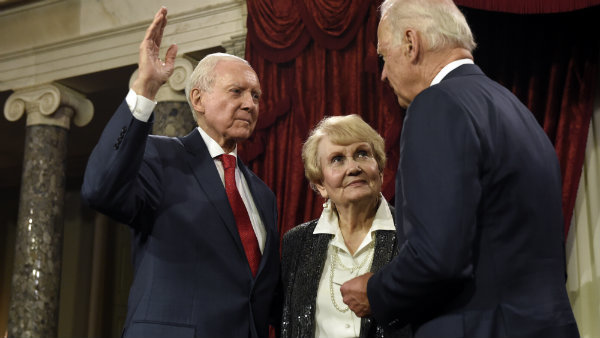 After years of criticizing the Patient Protection and Affordable Care Act, the GOP has unveiled an alternative plan to the controversial law that would scrap PPACA's mandates but still offer tax credits for those buying private insurance.
The plan debuts the same week the House cast its first vote to repeal PPACA this year.
An outline of the plan — called the Patient Choice, Affordability, Responsibility, and Empowerment (CARE) Act — was made public late Wednesday by Senate Finance Chairman Orrin Hatch, R-Utah, House Energy and Commerce Chairman Fred Upton, R-Mich., and Sen. Richard Burr, R-N.C.
The legislative plan repeals PPACA and replaces it with "common-sense, patient-focused reforms that reduce health care costs and increase access to affordable, high-quality care," the senators said in a press release Thursday.
"The American people have found out what is in Obamacare — broken promises in the form of increased health care costs, costly mandates, and government bureaucracy. They don't like it and don't want to keep it," Burr said in a statement. "Our nation's health care system was broken before Obamacare, and the President's health care debacle has only made things worse. The Patient CARE Act repeals Obamacare and addresses the fundamental cost drivers that Obamacare failed to address."
One big difference in the GOP plan is that the individual and employer mandates would be scrapped — individuals would no longer be required to buy health care coverage and employers would no longer be required to offer it. Most minimum health plan requirements in PPACA — for example, what benefits they must offer — would be scrapped, as well.
Additionally, Medicaid would be restructured. People who already have government insurance through Medicaid would be given tax credits to buy private plans, and upper-income families would no longer qualify for financial help.
"We can lower costs and expand access to quality coverage and care by empowering individuals and their families to make their own health care decisions, rather than having the federal government make those decisions for them," Burr said.
The CARE Act also allows carriers to sell plans across state lines and caps the amount of monetary damages that can be awarded in medical malpractice litigation.
The GOP plan is similar to one senators offered last year, though it didn't get far.
The proposal keeps two of the most popular PPACA provisions: the protections for consumers with preexisting conditions and the rule allowing young adults to stay on their parent's plans until age 26.
But the preexisting condition provision is less generous than the one outlined by PPACA as it protects only consumers who maintain continuous health coverage.
To help fund the law, the senators propose taxing the value of health insurance plans above $30,000 a year as regular income.
The plan's authors say it is still a blueprint and they would work with other lawmakers to develop it further.
Critics said the new proposed plan is nothing new and won't have the same benefits of PPACA.
But the new outlined plan still alleviates some pressure the party had been receiving about proposing an alternative to PPACA they have long promised.
Alternatives are especially necessary conversation as the Supreme Court case challenging PPACA's subsidies nears. In the case, the justices will consider an appeal filed by four Virginia residents seeking to block the subsidies in 36 states. Researchers have said that the challenge to subsidies could cut off subsidies for millions of Americans and might ultimately unravel PPACA.