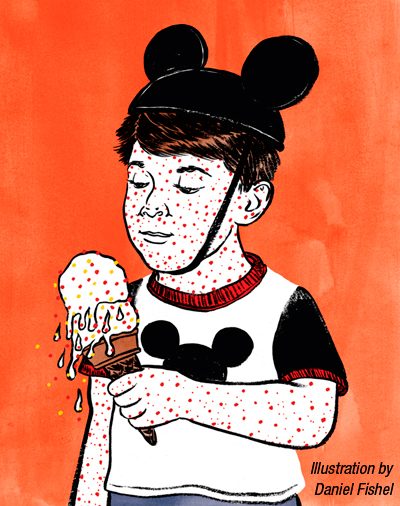 As if you haven't heard already, Disneyland is a great place for magic, moments, chance meetings with giant mice—and the measles.
Let's talk about what doesn't belong in that list (who doesn't love a good game of the "one of these things is not like the other?")
The measles outbreak tied to Disneyland has spilled over state lines and into Mexico, infecting, at press time, about 140 people. The majority of those infected had not received the measles-mumps-rubella, or MMR, vaccine. Other cases spread to babies too young to get vaccinated.
The biggest issue with this is that the outbreak was a completely avoidable problem (and don't just take my word for it, take the word of U.S. health officials). This is a disease nearly eradicated by modern medicine, which makes an outbreak all the more infuriating. It's a comeback we simply don't need.
Sure, we can talk about a series of mishaps that led to the outbreak. We can put blame on a highly packed theme park. We can say that vaccines are never a 100 percent guarantee that you won't get sick. We can throw problems with medical access and costs into the mix. But at the root of the issue are those who chose to forgo, or delay, vaccines for themselves or their children. Here we have a group of people who are single handedly making an outbreak like measles much more likely.
I've got a problem with the Jenny McCarthys of the world. The conspiracists. The fearmongers. The personal liberty fighters. Or, perhaps most accurately, the me-me-mes of the world. These are the people who latch on to the now-disputed claim that vaccinations are at the root of autism. These are the people who need to constantly fight The Man. They make irresponsible choices for their children who are too young to have a voice. And in doing so they teach their children to not consider others in their actions.
Because not vaccinating is selfish.
Thinking about others is what living in a civilized nation is about. It's not just about what you think is good for yourself and your body or the body of your defenseless kid. The fact is that your health can, and does, directly affect other people.
In the case of vaccines, you're not only getting it to protect yourself. You're also getting it to protect others—especially those who have a weakened immune system, such as the sick or elderly—or those who are unable to get vaccinated—infants or pregnant people. These also are the people who can die from such a disease.
It's appropriate that the outbreak is rooted in Disneyland because all these people who aren't getting vaccines or don't think it's a problem are living in Fantasyland.