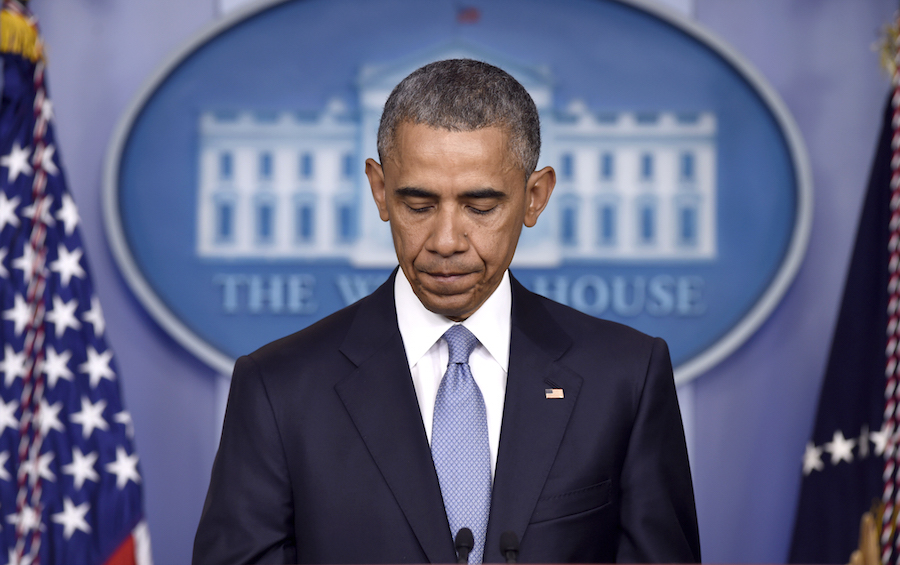 (Bloomberg Politics) — President Obama and his agenda get called all sorts of names, but an easy way to strike a nerve is to call his policies "anti-worker."
During a speech on Thursday to Organizing for America—the group that helped campaign for Obama in 2008 and 2012—the president called the
Trans-Pacific Partnership
the most "progressive" trade agreement in U.S. history and said he takes it "personally" when critics on the left say it will hurt workers.
"[W]hen people say that this trade deal is bad for working families, they don't know what they're talking about. I take that personally," Obama said. "My entire presidency has been about helping working families."
Obama characterized the Democratic opposition to the trade deal as reflexive, rather than informed.
"I've got some good friends who are opposed to this trade agreement, but when I ask them specifically what is it that you oppose, they start talking about NAFTA," Obama said, referring to an unpopular free-trade agreement signed under President Clinton. (Both Obama and Hillary Clinton denounced the agreement during the 2008 election.) Obama said that critics "need to tell me what's wrong with this trade agreement, not one that was passed 25 years ago."
By good friends, Obama likely meant Massachusetts Democratic Sen.
Elizabeth Warren
, who has been a vocal opponent of the deal and Trade Promotion Authority, or "fast track," a bill being considered by Congress that would allow Obama's trade deals to pass without amendments. Earlier this week Obama said the two have been "allies on a whole host of issues, but she's wrong on this."
While critics of the deal have called it "NAFTA on steroids," Warren also has spoken out against the way the deal has been presented—or rather, hidden—from the public.
"If it's a great deal for families, like the president says, or a great deal for workers, then put it out there and let them see it before we have to grease the skids to get the deal down," Warren said Wednesday on MSNBC's The Rachel Maddow Show, referring to TPA. Members of Congress can see the deal, but are not allowed to discuss it, she said.
Maddow noted that one of the conditions of the TPA is that the deal will be made public for a period of time before the president signs it. Warren countered that Congress first would have to give up any chance of being able to improve it. She added that a large percentage of the working groups helping to shape the bill consist of corporate executives and lobbyists.
"My view is, when the process is rigged, then the outcome is likely to be rigged," Warren said.
But on Thursday, Obama essentially argued that his allies should just trust him, based on his record.
"I've got some of these folks who are friends of mine, allies of mine saying this trade deal would destroy the American working families, despite the fact that I've done everything in my power to make sure that working families are empowered," Obama said. "So by this logic, I would have had to do all this stuff for the last six and a half years, and then, suddenly, just say, well, I want to just destroy all of that. Does that make sense?"