The feeling of crisis that has been so front-of-mind for health insurance brokers over the past two years finally seems to be receding. It's not that brokers suddenly see the world as rosy. But now that it's become clear that the Patient Protection and Affordable Care Act is not the industry death sentence many had feared, they're settling in and adjusting to a changed—and still evolving—business environment.
They told us about their reactions and prospects in Oliver Wyman and Benefits Selling's annual health care survey for 2015. In it, we asked more than 400 brokers and agents for their take on the market, the business environment and their plans for the future. We found producers thinking pragmatically about their situations—what their role needs to be in today's environment; how they can respond to the undeniable challenges of industry consolidation, changing customer demand, and technological disruption; and how to position themselves strategically to prosper.
Size Matters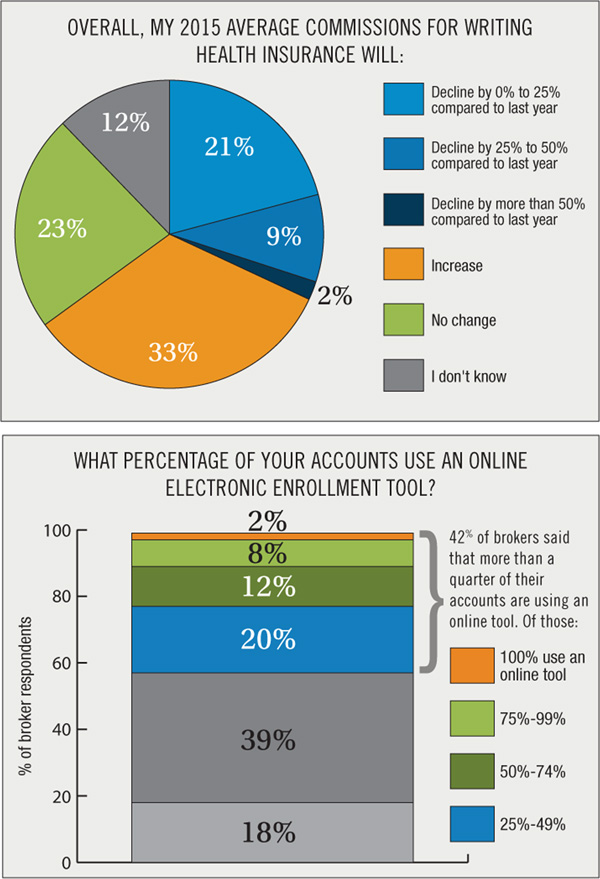 Oliver Wyman analysis
Overall, brokers are fairly evenly divided in their assessment of where the market is going. Thirty-two percent predict that their average commissions will decline in 2015; 33 percent expect them to decline; and 35 percent either expected commissions to stay the same or said that they didn't know. This is down from last year when almost half of respondents to the 2014 survey expected commissions to decline.
But break out those answers by size of brokerage, and one striking difference appears: Of the respondents who thought that commissions would fall by 25 to 50 percent next year, almost all came from shops that employ fewer than 25 people. And all of the brokers who thought that their commissions would fall by more than 50 percent were from brokerages of fewer than 25 people. The smaller brokers see themselves in much greater danger than the larger brokers do.
One reason for this pessimism is visible in the questions related to technology. The days of paper enrolment and face-to-face selling, while still prominent, are giving way to a technological revolution. Online benefits administration and private exchange solutions are an increasingly important part of the business. Forty-two percent of the brokers who participated in the survey said that more than a quarter of their accounts are using an online tool. Smaller brokers are not as unanimous as larger brokers in stating that online solutions are a critical component in their value proposition, but by and large they're on board.
Smaller brokers may believe in technology, but compared to larger firms they are less likely to invest in it, indicating that they lack either the capital, the expertise or will to keep pace. Roughly two-thirds of the brokers with 25 or fewer employees said they had no private exchange partners. Only 28 percent of brokers with more than 1,000 employees agreed—and more than 50 percent of them said they partnered with two or more exchanges.
And larger firms are investing in developing tools of their own. Nearly half of firms with 1,000 employees or more said they were investing in in-house technology; only 6 percent of the 25-and-unders were making a similar investment.
Smaller brokers are clearly in a pinch: They expect commissions to decline; they know they need new technologies and capabilities in order to compete, and many simply cannot afford to step up. No surprise, then, that brokers anticipate a wave of consolidation. Only one-third of brokers expect their firms to exist in their current form five years from now. Forty-three percent expect to buy a retiring agent's book of business or to merge with another firm, while 24 percent expect to exit the business or to be acquired.
As technology becomes more important and brokers (as we anticipate) earn more of their revenue through advisory services, we expect scale to be more and more significant. We already see larger brokers investing in technology, rolling up smaller players, and focusing on economies of scale to offset falling commission rates in core medical. And we expect the trend to continue.
The Exchanges: Not for Everyone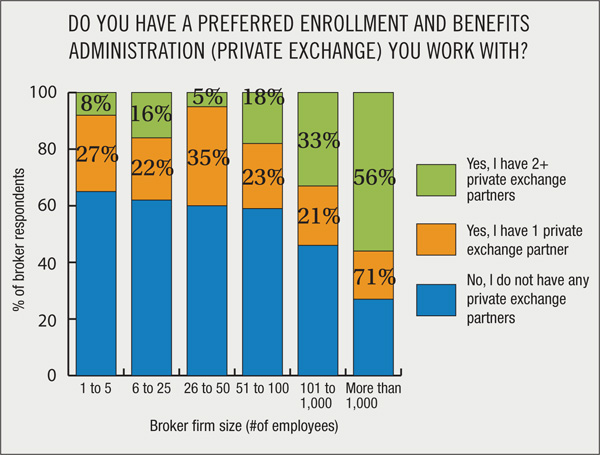 Oliver Wyman analysis
PPACA's implementation and the launch of the federally mandated health care exchanges raised the possibility that brokers could enter a new business: helping consumers find their way on the exchanges and enroll in exchange-based health plans. And in fact, demand for this sort of service has grown. In last year's survey, about one-third of brokers said that demand for public-exchange-related services was somewhat strong; this year, about half of brokers reported somewhat or very strong demand.
That figure is somewhat misleading, however. This is another area where the world looks very different for small and large brokers. Only 16 percent of brokers with more than 100 employees (and only 10 percent of firms with more than 1,000 employees) reported strong demand for exchange-related services, compared with 46 percent of the 25-and-under firms. This may partly reflect the fact that small-group employers have not, as many expected, dropped traditional insurance pushed their employees to the exchanges. More important, though, almost two-thirds of brokers think that the financial return on enrolling consumers on the exchanges is not enough to make the effort worth while. Only about 18 percent say that it is worth their while.
Who is right? Both sides, most likely. Unless there's a fundamental change in how the exchanges operate or in how many and what sort of people use them, navigation and enrollment services will likely remain unprofitable for most brokers and agents—but not all. For the right sort of broker—mostly small and focused on individual consumers—we expect to see a variety of service offerings, including guidance and enrollment, become a core part of the health insurance business. A small one, though. Outside of a small circle of niche player, brokers need to turn their attention elsewhere.
Opportunities ahead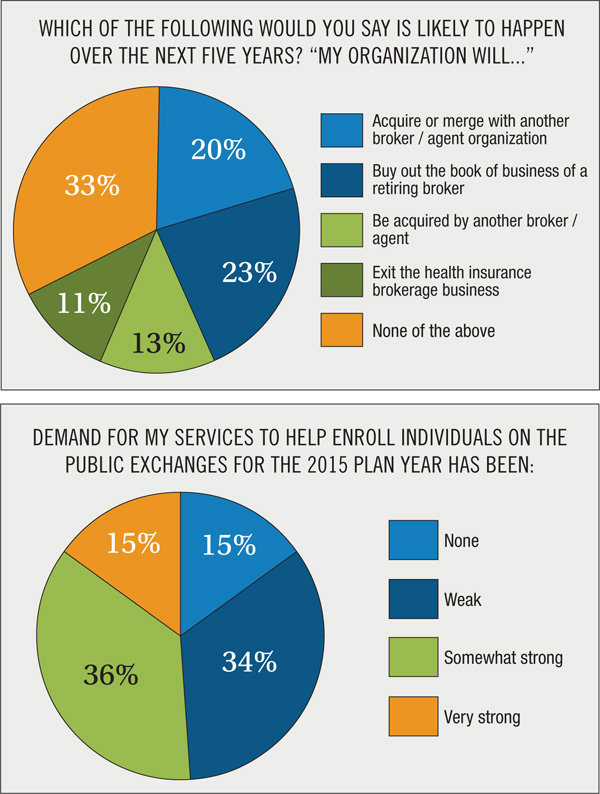 Oliver Wyman analysis
Where do you turn? That's the tricky part. It's clear brokers should be thinking of at least two key strategies, and we asked them about both.
Strategy one: Diversify into ancillary products. Brokers are already well aware of one of the strongest strategies for surviving and growing in today's health and benefits marketplace: offering ancillary products such as life, dental, vision and disability insurance. Eighty-five percent of respondents said they already offered ancillary products and planned to increase their focus on them. Almost all respondents (90 percent) anticipated they would sell a large or moderate amount of life and dental insurance. Eighty-six percent said the same for disability insurance, 85 percent for vision coverage, and 80 percent for critical illness/hospital indemnity/gap medical coverage. Overall, three-quarters of respondents who offered ancillaries said they expected to make more money from them, compared to two-thirds in last year's survey.
They may not have an easy time accomplishing that goal. Brokers who want to profit by them need to focus on creating demand. And that is an area where large brokers, with their broad reach and access to technology, have a real advantage. Smaller brokers will mostly have to depend on bundles created by carriers—which are becoming more common.
Strategy two: Take advantage of new distribution mechanisms and technology. Technology is playing an enormous role in how brokers are adapting and evolving. More than 60 percent of our respondents said that offering enrollment/benefits administration technology or online solutions is a critical component of their value proposition. Among brokers with 100 employees or more, that figure hit 88 percent.
Technology is not just a tool for brokers. It's rapidly becoming part of the core offering, as employers search for tools to streamline their entire benefits administration process. Large and medium brokers will be pressed to develop the expertise and confidence to advise clients on what technology to purchase and how to use it. Smaller brokers will need to seek partners. They may actually have a more urgent need than their larger counterparts, because smaller employers themselves have fewer in-house tech resources.
Will brokers be able to fully take advantage of this opportunity? There is reason for doubt. Brokers aren't the only ones hoping to profit from employers' need to streamline benefits. The venture-funded startup Zenefits, for instance, goes beyond the brokerage model in offering employers services that traditionally belonged to the human resources function. Companies like these could become profoundly disruptive, forcing brokerages to adopt new business models—or displacing them. One way or another, when the dust settles in a few years, the winners in the benefits space probably would describe themselves not as brokers but as solution providers.
Redefining Roles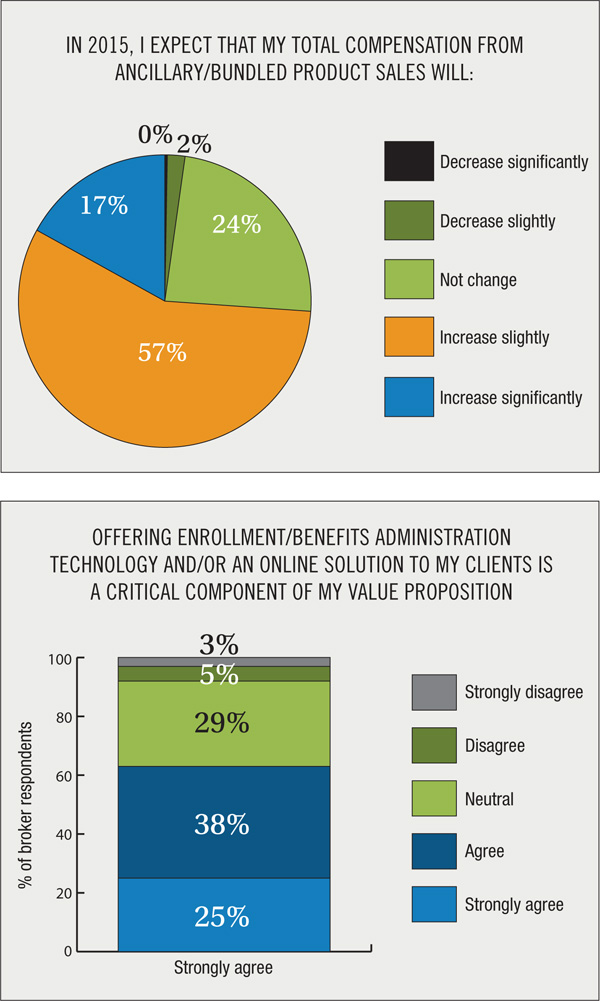 Oliver Wyman analysis
Critics—including more than a few brokers—might have been too quick to write the channel's obituary in the past few years. But that doesn't mean that life after a near-death experience is going to be easy. Look across the factors that contribute to the broker's business environment—customer demand, technology, government activity, industry consolidation—and not one of them shows any signs of hitting a new normal anytime soon. Brokers need to get used to the idea that they're in an industry that is redefining itself, adopting new tools, creating new business models, and responding to rapidly evolving needs—all while wondering whether the political process will spin off another shock like PPACA. If the past two years on balance give reasons for optimism, they also should have made it clear: The future belongs to the brave, the quick and the adaptable.