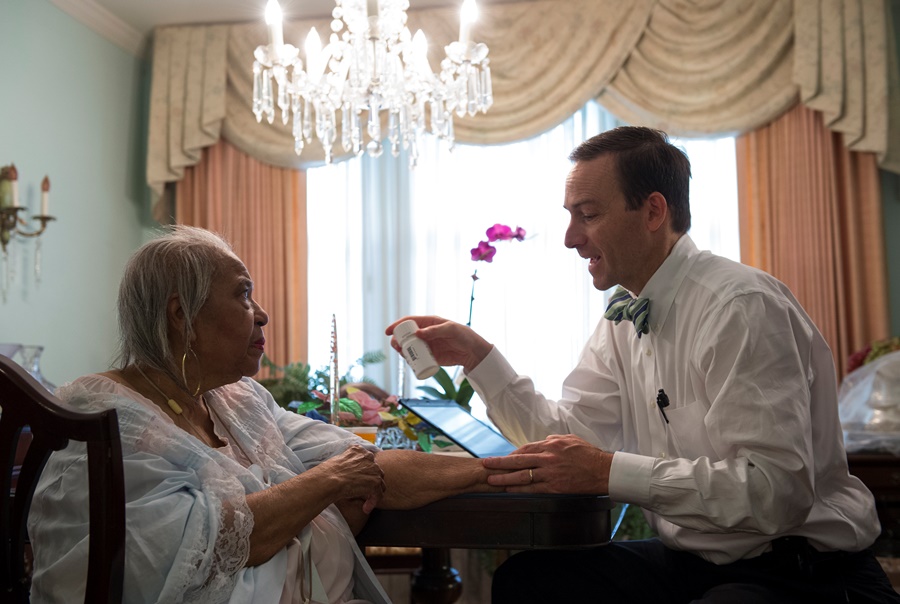 Home medical visits, or the house call, appear to represent at least a partial solution to controlling escalating health care costs for America's costliest patients.
The first year's results of a three-year study created by the Patient Protection and Affordable Care Act strongly suggest that medical providers who include house calls to homebound Medicare patients in the practice can hold down the cost of care without sacrificing quality.
The study, Independence At Home, is administered by the Centers for Medicare and Medicaid Services. The first three years were completed this spring, but CMS only released results for year one.
Congress is expected to extend the project due to its overwhelming success, U.S. Sen. Ron Wyden said Thursday. Wyden was one of the co-sponsors of the study.
Overall, the 17 medical care sites that participated in the study saved more than $25 million compared to a control group of Medicare patients. If the savings were projected over the entire Medicare population, the savings would run into the billions, based on the study results.
Read: These 10 hospitals could pick your pocket clean
Patients included in the study had to be on fee-for-service Medicare, have two or more multiple chronic conditions, need help with two or more functional dependencies (walking, feeding), hospitalized within the last year, and received some type of home health within the last 12 months. They represent the 5 percent of Medicare patients that consume 50 percent of Medicare dollars.
"If we can keep people as healthy as possible and at home, so they only go to the hospital or emergency room when they really need to, that both improves quality and lowers cost," Dr. Patrick Conway, Medicare's chief medical officer, told the Associated Press.
Participating provider sites were challenged to meet six cost-saving criteria, including such measures as reducing emergency room visits and 30-day hospital readmissions, both among the costliest care events for Medicare patients. Those that met certain criteria shared in the cost savings with Medicare.
One provider, Portland, Or-based Housecall Providers, saved 32 percent compared to its control group—more than $1,000 per patient per month. Because it met all six IAH criteria, it was awarded $1.2 million by Medicare, based on the amount it saved in the first year.
"The study results confirm what we have believed for 20 years—that home-based medicine for the highest utilizers of Medicare services delivers better care and better health at a lower cost," said Terri Hobbs, executive director, Housecall Providers. "This is a turning point for the way this population receives medical care in the future."