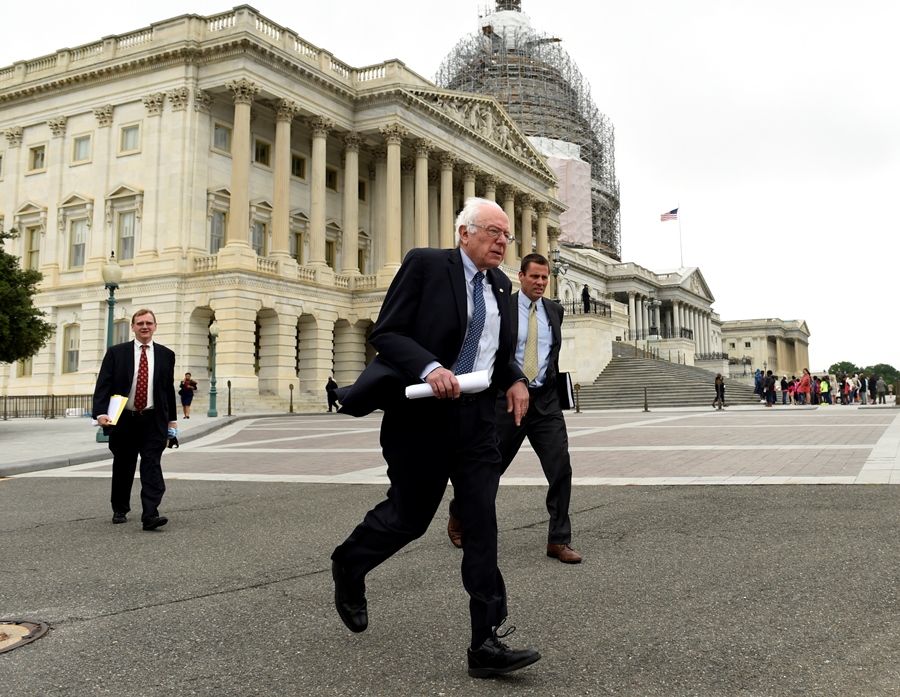 Legislation to repeal the Kline-Miller Multiemployer Pension Reform Act of 2014 was introduced yesterday by Sen. Bernie Sanders, I-Vermont, and Rep. Marcy Kaptur, D-Ohio.
The Keep Our Pension Promises Act of 2015 would prohibit trustees of multiemployer pension plans from reducing retirees' monthly benefits.
Yesterday, the Treasury Department and the Pension Benefit Guaranty Corp. released interim rules laying out the procedures for reducing retiree pensions.
Under the Multiemployer Pension Reform Act of 2014, which passed at the eleventh hour in the last Congress as a provision of the omnibus spending bill, retirees in the worst-funded multiemployer plans could see their pensions reduced to 110 percent of the maximum guarantee provided by PBGC.
The guarantees PBGC makes in its multiemployer insurance program are significantly less than those made in its single-employer program.
When PBGC takes over insolvent multiemployer plans, the agency pays participants an annual average of $13,000.
As a measure to avoid insolvency, those plans projected to be insolvent in 20 years can apply to Treasury for the right to reduce pensions for retirees. Under the law's scheme, a pensioner who would receive $1,000 from PBGC in the event of insolvency could see his monthly benefit reduced by trustees to $1,100.
Sen. Sanders' and Rep. Kaptur's bill would safeguard promised benefits by creating a new legacy fund within PBGC that would insure participants from companies that leave multiemployer plans, and subsequently stop paying into them, will continue to receive benefits. The new program would be funded by tax increases on the wealthy.
Last year, PBGC reported a $42 billion debt in its multiemployer program, which covers roughly 1,400 multiemployer plans.
The Taft-Hartley Act of 1947 allowed labor unions to pool resources into a tax-deferred, collectively bargained defined benefit retirement plans.
But most of PBGC's multiemployer debt, which is calculated by the cost it will be to cover plans that are projected to be insolvent, comes from two large plans that account for $26 billion of liabilities.
One of those plans is the Central States Plan, the biggest pension fund within the International Brotherhood of Teamsters.
Central States, which covers participants from a consortium of about 1,900 trucking companies, suffered a massive hit in 2007 when UPS paid a lump-sum of $6.1 billion to leave the plan.
In the Central States Plan, one worker supports about four retirees. It covers benefits for about 410,000 active and retired union members.
The plan reportedly has about $18 billion in assets and $35 billion in liabilities. It pays $2.8 billion annually in benefits to retirees.
This past April, trustees of the plan informed Teamster union leaders and members that they plan to apply to Treasury to reduce retirees' payments in order to stave insolvency.
The Teamsters president, Jim Hoffa, was in Washington D.C. for the announcement of the Keep Our Pension Promises Act. Other union leaders, retiree members, and pension rights advocates joined him.
"Retirees and workers who have played by the rules should receive the benefits they were promised," said Hoffa at the announcement. "The Teamsters thank Sen. Sanders and Rep. Kaptur for taking steps to ensure the government repairs some of the damage done by big banks to these retirement plans."